Archive for January, 2018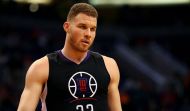 Blake Griffin has been traded to the Detroit Pistons. In stunning NBA and sports news, The Clippers traded star forward Blake Griffin to the Detroit Pistons. From the Clippers Publicity: The L.A. Clippers announced that the team has acquired forward Tobias Harris, guard Avery Bradley, center Boban...
January 30th, 2018 |
Sports
|
Read More
Cover photo- Rosa Risque. Photo by Bill Lodin. Inside photo- the mild-mannered Clarice Kent aka Rosa Risque. Photo by The Scoop LA. Rosa Risque- This mild-mannered lady is a Super lady in disguise Rosa Risque, mild-mannered lady at the University of California, San Diego assumes her intellectual...
January 25th, 2018 |
Beauty
,
Fashion
,
Ms. Scoop
,
Style
|
Read More