Archive for October, 2017
Cover and Inside Photo. Carson Louis, a young man with an old soul, has a fantastic studio, Red Wall Music Studio, that will help make your musical dreams become reality. By Buddy Sampson A Meteoric Young Talent with an Old Soul Carson Louis is taking a dual role in music-he's running a project studio,...
October 30th, 2017 |
Business and Lifestyle
,
Entertainment
,
People You Should Know
|
Read More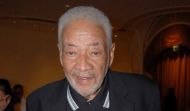 Cover and Inside Photo- R&B Entertainment icon Bill Withers. Photo by Kim Webster. By Kim Webster Beverly Hills CA – Master of Ceremonies Ray Parker Jr. and co-host James Reynolds presided at the 28TH Annual Heroes & Legends Scholarship Awards held at the Beverly Hills Hotel. Founder of the...
October 30th, 2017 |
Entertainment
,
Kim's Kronicles
|
Read More