Archive for June, 2016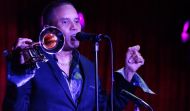 Cover photo- Johnny Britt excels on both vocals and trumpet. Photo by Paul Batson. Inside photo- A moving moment at the Catalina in Hollywood, where Britt debuted his project, "Marvin Meets Miles," was when he invited his son, Josh Britt(R) to perform with him on stage with him. The audience...
June 16th, 2016 |
Entertainment
,
Jazz N LA
|
Read More
Cover and Inside Photo: Estelle for Humanity and entertainment icon Ron Brewington (R) will be presenting the 15th Annual "Honor Thy Father" Awards Dinner on Sunday, June 19th. Pictured left is Corri Bailey. For tickets and more information, please visit www.honorthyfatherawards.com. or click...
June 14th, 2016 |
Community News
,
Entertainment
,
News
|
Read More