Archive for June, 2015
Cover and Inside Photo-Dr. Josef Hadeed. His practice, located in Beverly Hills, is one of the best aesthetic practices in the world. Redefining the Aesthetic Ideal By Buddy Sampson In the aesthetics industry, there are cosmetologists that are merely concerned with how much money they can make. However,...
June 18th, 2015 |
Beauty
,
People You Should Know
|
Read More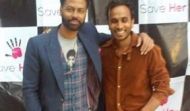 Cover and Inside Photo-Singer/Producer Eric Benet and Reggie Benjamin. Bringing Awareness to Human Trafficking By Buddy Sampson The plight of human trafficking remains a scourge of world society. Human slavery persists all over the world and should be outlawed in every shape and form. The United States...
June 10th, 2015 |
Entertainment
,
News
|
Read More