Archive for March, 2015
Cover photo: Kristina Cheremnykh, Miss Russia LA.Photo by Nelson Shen. Inside photo: Founder and Producer, Miss Russia LA, Lika Osipova (L) with model Ieva Kibare. Photo by Nelson Shen. By Buddy Sampson The Sofitel Hotel was locale of a fantastic evening of beauty, entertainment, fashion and music...
March 17th, 2015 |
Beauty
,
Entertainment
,
Fashion
,
Style
|
Read More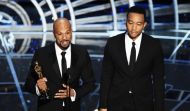 Cover photo-Common (L) with John Legend at the Oscar's. Photo: Robyn Beck/AFP/Getty Images. Inside photo: Publisher Buddy Sampson gives speech after receiving Eugene Melvin Sidney's Friendship Award. Photo by Cecilia Parker. It's been quite some time since I've written a commentary. A lot...
March 1st, 2015 |
Commentary
|
Read More