Archive for November, 2013
Looking for employment? Try the OIC Job Fair on Friday, December 6th at the Hollywood Park Casino. In a feeble economy, resources for job opportunities are at a high premium. Some job seekers have become discouraged as resources for employment prospects have dwindled. However, there is an organization...
November 27th, 2013 |
Community News
|
Read More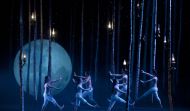 Sleeping Beauty's sets are spectacular. It's running until December 1st. A Visual Treat By Buddy Sampson I have to admit- when invited to review Matthew Bourne's Sleeping Beauty, I had no preconceived notions of what to expect. I'm sure most of my colleagues that are versed in classical...
November 25th, 2013 |
Theater
|
Read More