Archive for July, 2013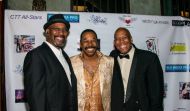 Cover Photo-Victor Orlando (C) (formerly of the Gap Band) is flanked by Lamar Webster (L) and Buddy Sampson (R) Photo by Nelson Shen. Inside Photo- The Jazz Scribes. (L-R) Dean Rohan (Drums) Scott Yanow(Saxophone, Clarinet and Melodica) Buddy Sampson(Bass), Richard Ginell (keyboards) and Ted Schumacher...
July 17th, 2013 |
Community News
,
Entertainment
,
News
|
Read More
Cover and Inside Right photo- Abraham Uribe, Founder and CEO, Blu Media Pro. Above-Shahid Iqbal, Co-Founder and COO, Blu Media Pro. Post Production Specialists Many businesses are formed because an entrepreneur develops a concept of how to take an existing product and make it even better. Abraham...
July 2nd, 2013 |
Community News
,
News
|
Read More