Archive for December, 2012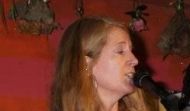 Javelyn, who plays ukelele, keyboards and guitar is nothing short of remarkable. Photo by Diana Ligon. By Bernard Samms Indie Music, largely ignored by major labels, was on display October 20th, 2012 at the Unurban Cafe in Santa Monica. Hosted by mega-talented singer/songwriter Javelyn, the evening...
December 14th, 2012 |
Entertainment
|
Read More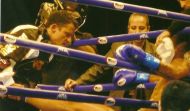 Cover photo-a fighter is handled by his corner. Photo-Tania Anderson. A fighter is bloodied in the first bout of the evening. Photo by Andre D. Cohen. By Tania Anderson and Buddy Sampson Marina Del Rey, CA- In honor of King Bhumibol Adulyadej's 85th birthday, Muay Thai boxers competed in a Mixed...
December 7th, 2012 |
Sports
|
Read More