About The Scoop
Buddy Sampson is the CEO/Publisher of The Scoop LA, formerly The Scoop Newspaper.
Responsible for the editorial direction and marketing of the publication, Mr. Sampson has worked for the publication since 1989. He started initially as a columnist and became Entertainment Editor in 1995. Since starting with The Scoop, he has written for several magazines and newspapers, including The LA Watts Times, The Sentinel, The Herald Dispatch, BRE Magazine, Rap Pages Magazine, The LA Weekly, Black Meetings and Tourism Magazine and many others. He has also done publicity, forming his own company, Rose Lee Public Relations in 1998. In 2009, he served as publicist for The Community Health Alliance of Pasadena. (CHAP.) Additionally, in 2008, he worked as Media Coordinator for Suzanne De Laurentiis Productions.
In 1996, Mr. Sampson worked for Larry Flynt Publications, serving as National Sales Coordinator for PC Portables Magazine, Tips and Tricks Magazine, a popular kids gaming publication and Sci-Fi Universe Magazine. He also worked as an Editor/Staffwriter and Sales Coordinator for Black Meetings and Tourism Magazine. A semi-professional musician, Mr. Sampson started playing music at the age of 11 and has graced the stage with The Marvelettes, New Birth, Larry Woodley and many local female singers. In 1999, he performed at the Montreux Jazz Festival, taking seminars from B.B. King and Nathan East in addition to gracing the stage with Steve Cropper and Edgar Winter among others.
As a journalist, Mr. Sampson has interviewed many stars, politicians, sports stars and icons. Among them include President Jimmy Carter, President Bill Clinton, Maxine Waters, Mayor Antonio Villaraigosa, Richard Dreyfuss, Nicole Kidman, Denzel Washington, Halle Berry, Jennifer Lopez, Angela Bassett, Nick Nolte, and many, many others. He had a critically acclaimed TV show on Time Warner Cable, "People You Should Know," where he interviewed many personalities, including Michael Cooper, the ex-Laker sports star and Larry Blackmon, leader of the popular group Cameo, from 2002 to 2008.
He attended Community College of Philadelphia, majoring in Marketing/Management and UCLA, earning a certificate in A&R.
In 2008, he assumed the helm of The Scoop Newspaper, taking over the publication and established a strong online presence, generating 464,000 hits to the site in 2010 alone.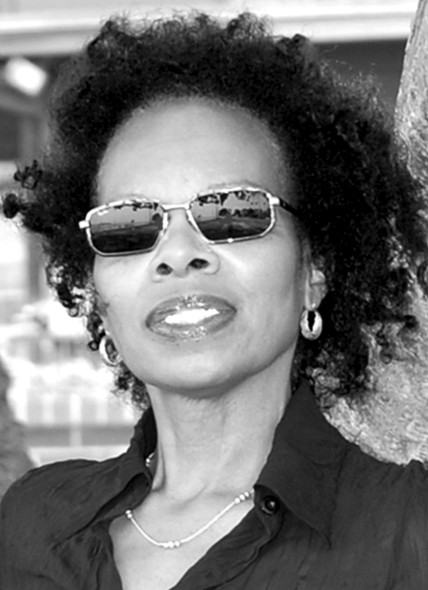 Kim Webster, Columnist
Kim Webster is a Columnist for The Scoop LA. An established photojournalist, Ms.Webster has written for The Scoop Newspaper, now The Scoop LA, since 1995. Additionally, she has been a writer for the Long Beach Times. She has photographed or interviewed some of the biggest stars of the entertainment industry, including Halle Berry, Denzel Washington, Arsenio Hall and many others. She excelled and attended Long Beach City College, making the Dean's List, majoring in Journalism.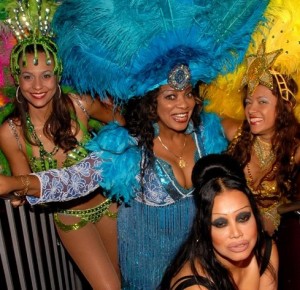 Eugenia Wright, Columnist
Eugenia Wright (in foreground kneeling) is still revered as one of our favorite and most interesting Columnists.  She was the owner and operator of ISA Public Relations and has handled various clients such as Kathleen Bradley, Della Reese, Jon B, Pat Boone and many others. She reported on the club scene and on various events that take place primarily in Los Angeles and adjacent areas. She was a very busy publicist and we were  very fortunate that she wrote for us. Eugenia tragically passed away in March 2011 and although she is no longer with us, we still consider a major part of The Scoop's history and she will always be with us in spirit.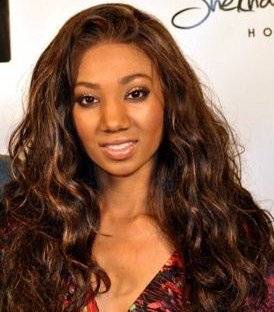 Deidra Burtonelli aka Deidra Burton Vines
Deidra Burtonelli was our Associate Editor and staffwriter. She is a rich part of The Scoop LA's history and was our footsoldier, attending many events and assisted with sales and marketing. Deidra tragically passed away in September 2010 due to complications related to cancer. She is dearly missed and still part of our staff in spirit. She is irreplaceable and we list her here in tribute to her wonderful spirit.
The Scoop LA, formerly
The Scoop Newspaper, was founded in 1967
by Jim Shields.
Publisher/Editor-In-Chief:
Buddy Sampson buddy@thescoopla.com

Columnists:
Kim Webster
Kim Somers Egelsee

E-mail us at buddy@thescoopla.com
Or call Buddy Sampson at (323) 919-2848.
The Scoop LA
buddy@thescoopla.com
(323) 919-2848