Billy Porter at the Grammy Museum
Columnists
— By
Ross Kolde and Aimee Musser
on June 5, 2017 at 1:27 pm
A Transition of Intention
By Aimee Musser and Ross Kolde
There's a new attitude resonant in the LGBT front lines. It's no longer an armada of mere defense against intolerance; they have an active post, fighting in the front line for change. Here enters Billy Porter; singer, dancer, composer, actor and playwright.
For nearly three decades he has appeared on Broadway, most notably, originating the role of Lola in the hit production Kinky Boots, which won him both a Tony and a Grammy. On May 15th he was invited to the Grammy Museum to showcase his new album and discuss the genesis of its creation. What happened became as much a defiant act against the Trump administration as it was an expression of brilliant R & B music and creativity. It was an inspirational sermon to a room that clearly were mostly friends and colleagues spanning all the way back to Porter's college years. At one point, Scott Goldman, the Executive Director for the Grammy Museum and leader of the discussion, stopped, looked around and asked "Wait a minute, does everyone know everyone else here?" The room roared to assure him that yes; it was in fact a close group of some of the most talented names in Broadway, Soul, R&B, Gospel and Rock music today, who also just so happen to all be friends.
And his show was a visual delight to the eyes. Porter strolled out on stage reminiscent of a luminary of sorts, decked out in a snake skin jacket, a pimp's hat and what looked like a long, black skirt. He looked as if he might have just walked away from a Parliamentary meeting with George Clinton's Funkadelic.
Much of the conversation was to highlight Porter's new album, Billy Porter Presents: The Soul of Richard Rodgers. Who is Richard Rodgers? Most know him simply as the Rodgers in the legendary partnership, Rodgers and Hammerstein, a songwriting duo who composed such musicals as South Pacific and The Sound of Music. What Porter has set out to accomplish with this album is to create "R&B, soul, and contemporary gospel treatments", of what, "was the pop music of the day, the golden age pop music."
The discussion quickly veered to his childhood, growing up in the church and what it meant to be gay and African American in the 80's trying to establish a career in Broadway. "Theatre saved my life", Porter stated, "It plucked me out of the darkness. I could have been a statistic, when you look at it on paper, I was supposed to be a statistic and it was theatre that saved that [from happening]." He went on to topics like the 2017 election, which re-directed the course of the album, re-directed the artists he wanted to sing and work with. "We live in a shut up and sing environment," he explained, "the idea is to squash critical thought and make people followers. We as creative people have always been the ones who are able to speak to power. We've always been the ones who are able to reach across the aisle when our politicians chose not to or can't."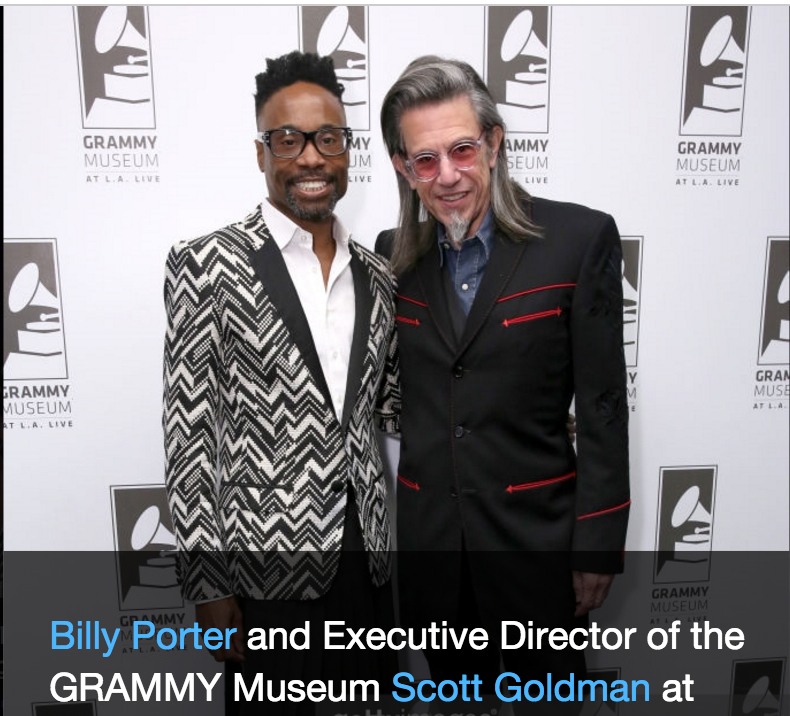 To cap the evening off, Porter took stage to perform a few singles from the new album, including "Wash That Man Right Out of My Hair." Originally written in 1949 and adopted as anthem by women in the second World War, Porter very obviously has created a new anthem for a new war with Trump as target. "We got some (expletive) we got to take care of on this side. So get off your couch, get engaged, because our democracy is at stake. It is not time to be quiet or silent." To drive the point home, Porter ended the night with a 30 minute, pass the mic rendition of Marvin Gaye's "What's Going On". First to get the mic was the grandson of his friends and Broadway giants, Susie Dietz and Lenny Beer. Next to take the microphone was another Broadway star, Rema Webb. As well as, Vintage Trouble's Ty Taylor and the solo artist Ledisi. In fact, Ledisi stopped the show. After her personal take on the chorus of Gaye's iconic protest song, Porter threw up his hands, proudly glanced over the theatre and yelled,"I think we're done!" He had come to accomplish this, to bring together talented and creative people to reinstill the meaning of what is means to be of service, as an artist, in our ever-changing world. To what Porter calls a "transition of intention," this one evening alone, very effectively resonated to his cause. –
Billy Porter, live at The Grammy Museum, May 15th, 2017.
For more information on upcoming events, visit http://www.grammymuseum.org. For information on Billy Porter and his new album, visit https://billyporter.com
Aimee Musser & Ross Kolde