David Long-Built To Lead
Business and Lifestyle
,
People You Should Know
— By
Buddy Sampson
on October 6, 2014 at 6:19 pm
Developing A Millionaire Mindset
David Long is so mega-successful he wants to share some of the tools he used for his rise to prominence. His book, "Built To Lead," has been number 8 on Amazon's Business Leadership hardback books best seller list. "It's selling very well," said David Long. "Billionaire Sir Richard Branson and The Pope are up at the top (on the best seller list) and I can't compete with those guys." Mr. Long is the founder/CEO of My Employees, www.myemployees.com, which is in the top 1% worldwide in the Employee Engagement and Recognition industry.
Long grew up in Wilmington, NC and he speaks fondly of his life in the city. "It's a beach town, so I grew up surfing when I was younger, older too, for that matter," he said. He left Wilmington, but had to return, due to severe financial hardship. "I ended up moving back here in 1989 after losing my job- I went through seven jobs in three and a half years and I started a company in a 5×5 area in my Mom and Dad's garage," he reflected.  "Today we should do about 9 and a half million-10 million this year, 25 years later."   His company grossed $8.3 Million in 2013. "I don't have any debt at all. You have to focus; you have to have a plan. You don't wing it, you don't say, 'you know what, I think I'll just waste my money on this,' it's not going to work."
He grew up in a religious family. His dad was a pastor and for a while, David thought that he would follow in his dad's footsteps. "Actually, at one time, I thought about going into the ministry," he explained. "After three years of Bible College I told my dad, 'Dad I don't know if I'm meant to be a preacher.'  Dad said, 'don't be a preacher then.'" David decided to go into entrepreneurship and it proved to be a wise decision, as his success has enabled him to help others. "The ministry wasn't for me. I think I've been really Blessed in that regard, because I've helped so many pastors, not only my parents but I've helped several pastors who have had hard times," he said. "That's just part of the things I do to try to give back."
Among the many generous things David has done is finance a wounded warrior documentary, "Still In the Fight," which spotlights soldiers that have returned home from war, including Afghanistan. "My wife and I funded the entire documentary," said David. The documentary features Kyle Carpenter, who recently received the Congressional Medal of Honor from President Obama, one of the youngest soldiers to receive the prestigious medal. "The reason why we did it," he said, "because at the time there were 25 servicemen, basically men that were killing themselves every day in our country. We were losing more people when they come out of war than on the battlefield. We funded that documentary to give people hope." The proceeds from the sale of the documentaries are going to 4 military charities. "My wife and I don't take a dime," he said.
But what inspired David Long to pursue a career as an entrepreneur? "It was more desperation than inspiration," laughed David. "I lost my job, I went through 7 jobs in three and a half years, and I had to move back home to Mom and Dad with my wife and three children in tow." Already involved in the recognition industry, having done plaques for Circuit City, David decided to try selling his wares to a real estate company to great success. Galvanized, after walking out with a check, David knew he was onto something. "I've never looked back," he laughed. His company has 12,000 clients in the U.S. and Canada, servicing big chains like WalMart, and Target "We've been growing at 20% a year for 15 years," he explained.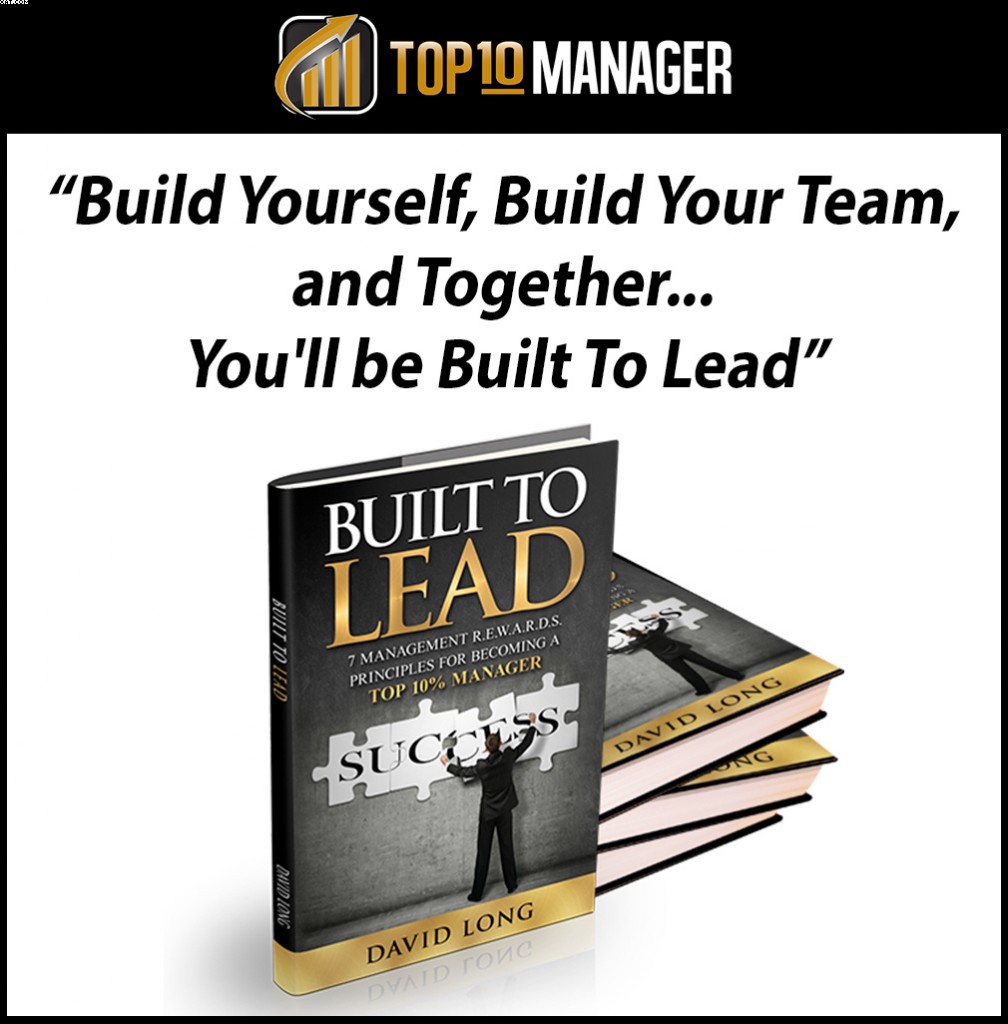 Currently, David Long is offering an incredible bargain, if you purchase the hardcover version of his book, "Built To Lead," for a mere $19.43. "Send me an e-mail to DavidLong@top10manager.com and send me your Amazon receipt and I'll send the Kindle version for free," he said. It's a bargain you can't pass up, with tips that lead to huge success. "This will go to October 7th, so get the special while you can. This book has ideas in it that will make you millions. It's one of the most phenomenal opportunities to get some really solid information."
One of the biggest advice points that David Long gives in his book is the importance of being a leader and treating employees with a modicum of respect. "Your employees are your front line, they deal with your clients more than you do," he explained." Your employees have to be onboard with what you are trying to accomplish and what the company goals and mission are. They will take excellent care of your clients and customers if they feel that you, as a manager and leader, care about them as people. I tell people today that I'm a coach, mentor and cheerleader without the skirt."
In these times of economic challenges, learning to think "outside of the box" can result in a very successful business. "The economy has made it harder, but we've had to get better," said David. "People aren't spending money very easily, they're thinking about it long and hard. Our recognition program is helping companies make money or we wouldn't be on their P&L (Profit & Loss)." David Long has proved that with his successful businesses. If you want to improve your life condition and propel yourself to financial success, purchase his incredible life-changing book. It will help you to develop a millionaire mindset.
You may purchase the book here:
http://www.amazon.com/Built-Lead-Management-R-E-W-R-D-S/dp/1629030465/ref=sr_1_1_title_1_har?ie=UTF8&qid=1412017781&sr=8-1&keywords=built+to+lead+David+Long
Visit http://www.top10manager.com/builttolead1 to learn about David Long's 7 R.E.W.A.R.D.S.
Visit David Long's website at www.myemployees.com.