The East Los Angeles Summer ArtsFest
Community News
,
Entertainment
— By
Bernard Samms
on July 7, 2014 at 12:01 am
JD Hall, Evelyn "Champagne" King and King James Brown Rock the ArtsFest
East LA was the locale of an amazing event, the East Los Angeles Summer ArtsFest, put on in behalf of Los Angeles County Supervisor Gloria Molina and featured exciting performances from King James Brown, JD Hall and Grammy winner Evelyn "Champagne" King. The extravaganza had food vendors, local vendors and an Artwalk. "I've been doing this for the past couple of years," said performer and singer JD Hall, who had a hit it the 80's with his tune "Number 1 Lover."  "I've been the promoter to put the shows together and bring in the people, so this year, I decided to bring in King James Brown, myself and Evelyn "Champagne" King and her group. Last year I had disco people. This year I decided to have full orchestras and bands." Many times, at today's concerts, several artists sing to musical tracks. JD Hall made a conscious decision to have live performers and the result was a hit show; the highlight of the event was clearly the musical performances. And the performances were legendary.
King James Brown was one of the earlier performers and his show and musicians were nothing short of excellent. "Number 1, my real name is James Brown," said King James Brown, who does a spot on job as the legendary James Brown in his shows. "I wanted to be a performer at age five and I chose James Brown because of his excitement. I wanted to do it so bad, and I knew I could do it. So I started at ten years old on stage. My thing by doing James Brown is to add on to what he's already done and add my flavor on top of it." And King James added flavor and dance to the show. His set was riveting and his band was tight. His showmanship and presence excited the audience. Among his players were producer and keyboardist Bernard Lilton, who produced the Gap Band, and the soundtrack for "A Thin Line Between Love and Hate."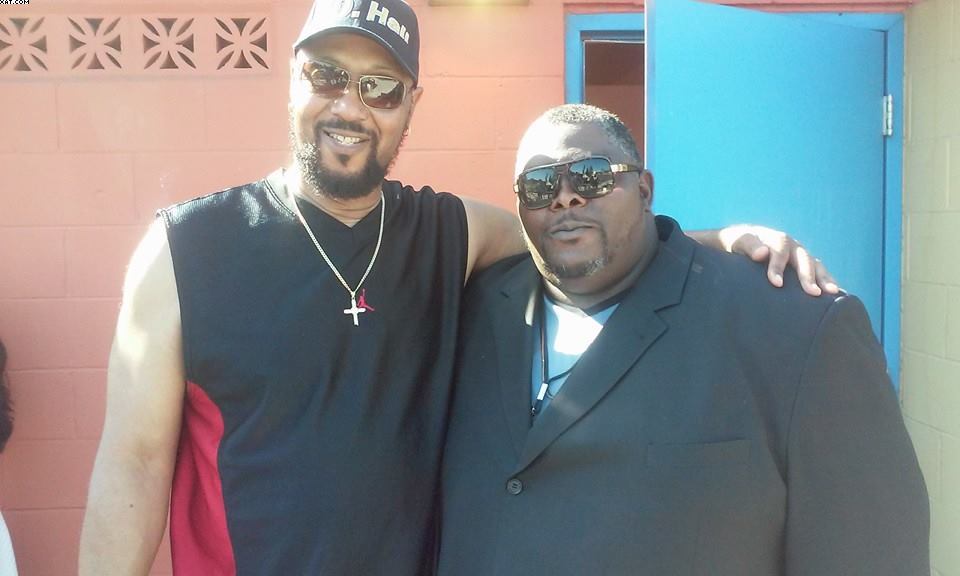 "I'm with friends, I'm with James, a good friend of mine and Gary," said Lilton, when asked what made performing at the ArtFest special. "These guys kind of helped me when I was taken sick, and I was always at the top of the plateau, but there's always someone that comes to your aid when you're down low in the valley and these guys put me back on up my game, and that was very special."  King James Brown and his conglomerate were awesome on stage and fun to watch.
Closing the show that night was Evelyn "Champagne" King. Evelyn and her band were also amazing. An animated performer, King loves the stage and enjoys every minute of being there. She performed and danced and sweated and gave the audience a total show. She performed many of her hits, including "Love Come Down," "Betcha She Don't Love You," and "Shame," among others. At one point in her show, she congratulated JD Hall for having nothing but live musicians on the stage, a classy act. Evelyn proved that night that she has not lost a step and is still an exciting performer.
But the night clearly belonged to JD Hall. The stage, the audience, and the arena seemed to be his playground. He was doing so much, it seemed like he could have sold popcorn that night, as well and sold out his product. His set was all about the audience having a good time. Sure, a lot of artists attempt to involve their audiences, but JD truly wants everyone at his shows to have fun. His set varied from Gap Band tunes, to Sly and the Family Stone compositions and the audience loved his showmanship and music. One of JD's guitarists, Karl D' Amico, had high praise for him.  "It's really kind of cool, I grew up in the funk/guitar sort of thing and to be playing with JD Hall is really freaking awesome," said D'Amico, who has played with many groups as a session and live guitarist.  Bassist Derrick Murdock, a phenomenal player that has graced the studio or stages with Sheena Easton, Tom Scott, Rolls Royce, Jeff Lorber and The Tonight Show, performed with JD Hall and was nothing short of awesome on bass. He concurred with D'Amico. "JD got it going on," said Murdock of JD Hall. "He's quite the showman and he gets the energy up. I like walking off the stage sweating and he makes that happen. "
To say JD Hall is energetic is quite an understatement. "He is an amazing performer," said his wife and manager Michelle Hall, who has known JD since they were children. "I've seen him grow and do this for many years." JD surprised everyone when he disappeared off the stage and turned up in the audience. A very poignant part of the show was when kids surrounded him and all of them wanted to dance with him. When he decided to return to the stage, he seemed like a Pied Piper, he had a number of kids that followed him back to the stage. When JD and his band performed "Hot, Hot, Hot," the park turned into a conga line. It was magical to watch. JD Hall is a consummate performer and a bonafide star.
JD Hall is also doing a number of tribute shows in honor of musical legend Barry White, including a show July 18th at the Canyon Club in Agoura Hills. But why Barry White? "He's a legend, "said JD Hall of Barry White. "I decided to go ahead and keep his legend alive. People seem to be pleased by the way I portray Barry White, so I thought I'd just keep it going." Before it's all said and done, people soon will be talking about JD Hall, his performances, shows and most of all, his heart. The gregarious man may be a pure showman, but off the stage, he's involved in the community. Last year, in an event that was cancelled last year, JD Hall was willing to donate his time for an event benefitting Children's Hospital and if there's an event that's for a great cause, JD Hall will be there.  His music, showmanship and heart will make him a star for many years.
Catch JD Hall's next shows. He'll be performing at Alta Loma Park, 3330 Lincoln Avenue, Altadena, CA  91001 this Friday, July 11th. He'll also be doing his Barry White tribute at City Terrance Park, located at 1126 N. Hazard Avenue, Los Angeles, CA 90063 on July 17th. Visit his websites at www.jdhallband.com and http://www.thebarrywhitetribute.com.