OIC To Hold Job Fair at the Hollywood Park Casino Dec 6th
Community News
— By
Buddy Sampson
on November 27, 2013 at 2:08 am
In a feeble economy, resources for job opportunities are at a high premium. Some job seekers have become discouraged as resources for employment prospects have dwindled. However, there is an organization that is addressing the need of gainful employment.
Los Angeles Opportunities Industrialization Center, Inc. (LAOIC) is a non-profit organization whose philosophy is that every person has dignity and that dignity should never be violated.  At Los Angeles OIC "Everyone is Somebody." Their mission is to continue to be a leader in providing quality education, training and employment to economically disadvantaged people of all races and backgrounds, enabling them to become self-sufficient and more fulfilled members of American society.  With this credo in the forefront, OIC is hosting a job fair with Bank of America as its primary sponsor.
Last year, the Job Fair was a great success with 650+ people in attendance. The vendors were very impressive and received kudos for a job well done and often heard comments, such as "I will be back next year." Well, this years' Job Fair will take place on Friday, December 6th, 2013 from 11:30AM to 3:30PM at the Hollywood Park Casino, located at 3883 West Century Blvd, 6th Floor, Inglewood, CA 90303. It will be convenient to job seekers because of its location and for those who drive, parking is free.
Last year, many job seekers received job offers on the spot from several of the vendors and were able to complete applications online using computers provided for their use. This years' event promises to be even more successful, in part because OIC will have excellent vendors whose goal is to provide jobs.
Los Angeles OIC is the Los Angeles affiliate of a network of sixty OIC Centers throughout the United States. Founded by the late Reverend Leon Sullivan in 1964, the OIC's of America remain grounded in reaching out to the underprivileged and underserved members of our society.
For more information on the Job Fair, contact Steve Thompson at the OIC at (323) 754-3116. Dress for success, bring your resume and you may meet your next employer.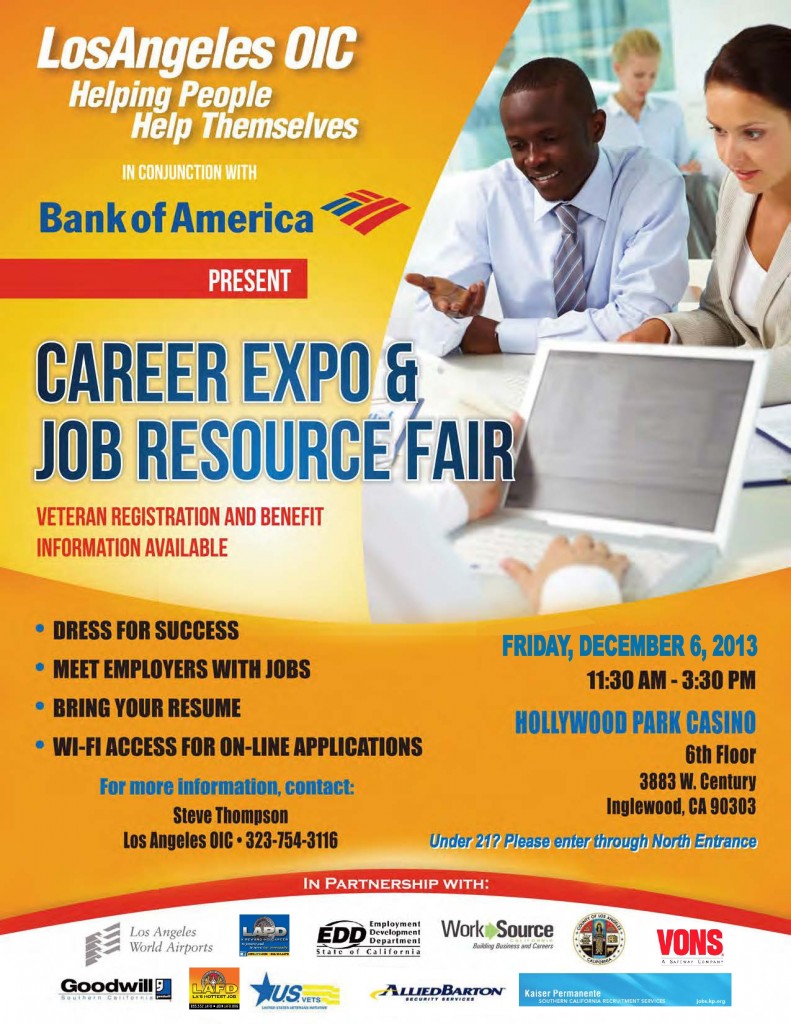 Trackbacks
Leave a Trackback