The Scottsboro Boys at the Ahmanson Theater
Theater
— By
Kat and Eddy Hawks
on May 31, 2013 at 3:09 am
Angela Bassett & Paula Abdul Are Spotted at the Star-Studded Premiere
By Eddy & Kat Hawks of American Ballet of Los Angeles
Los Angeles, May 29, 2013- The Scottsboro Boys premiered with gusto on May 29, at the Ahmanson Theater, like a musical right out of the 1940's. Angela Bassett, Paula Abdul and Kenny Lattimore were among the star celebrities who attended the premiere that featured three Emmy Awards and Tony Award winner, Hal Linden, whose seamless portrayal of The Interlocutor was impeccable and served to give cohesion to the entire work.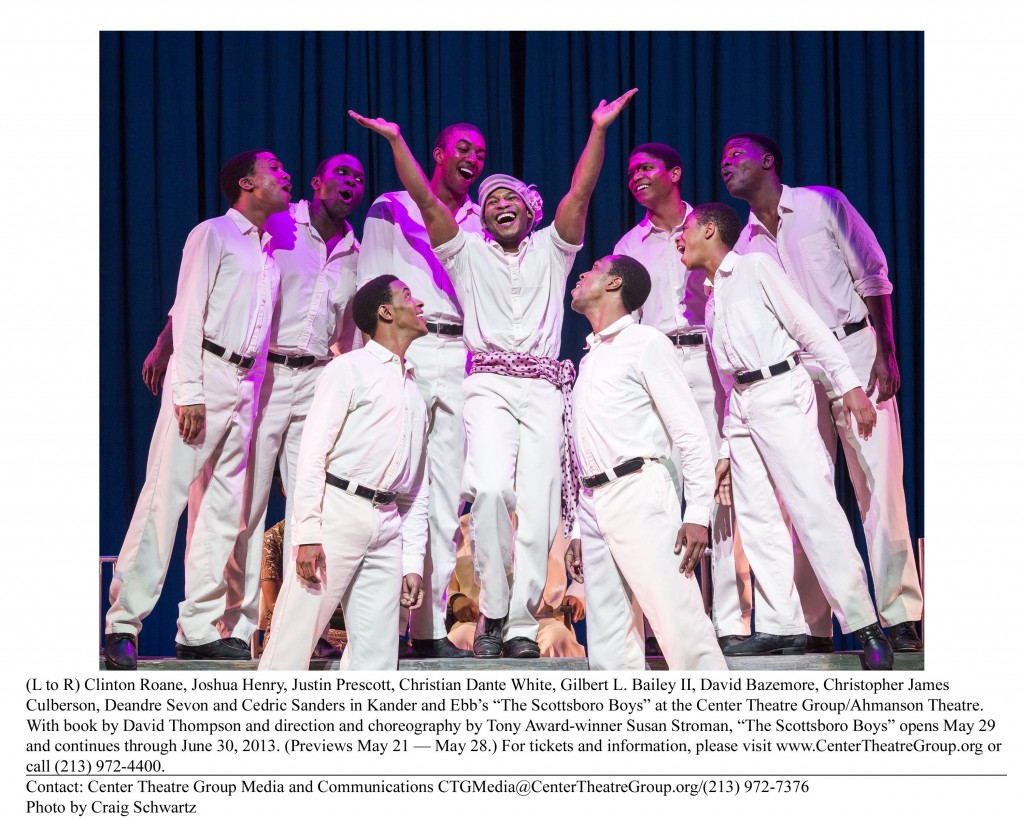 With music and lyrics by John Kander and Fred Williams, creators of Chicago and Cabaret, and a book written by David Thompson, The Scottsboro Boys is based on the true events of nine African-American young men who were unjustly accused of raping two women on a train while traveling through Alabama on March 25, 1931. The "Scottsboro Nine" or "Scottsboro Boys," as they became known in the press, were convened in hasty trials that initially convicted and sentenced all, but one of the defendants, to death by electric chair.
Despite the sensitive topic, which explores racism, a corrupt and inept Alabama court system, the death penalty and cultural stereotypes like the greedy Jew, the cast of The Scottsboro Boys gave a powerful performance that was dynamic, engaging and raw. Five time Tony award winner Susan Stroman, did an excellent job in directing this talented ensemble. One of her most memorable numbers is "Electric Chair", wonderfully sung and danced by Deandre Sevon, Justin Prescott, Clinton Roane, Trent Armand Kendall and JC Montgomery. Also worthy of note was the compelling and resonating voice of Joshua Henry. Henry (Haywood Patterson) gives a mesmerizing and poignant solo in "Nothin'". His hypnotic voice has a compelling way of revealing the truth.
In the playbill, John Kander writes: "The Scottsboro Boys is a story that still resonates today as we struggle to give voice to those who are marginalized or disenfranchised. I remember how much the story touched me as a young boy growing up in Kansas City. And it touches me even more today. Writing The Scottsboro Boys has been one of the most rewarding experiences of my career. I am eager for you to join us at the Ahmanson Theatre and become part of a conversation that I know you will take back to your kitchen table."
The Scottsboro Boys resonates with magical realism and gives audiences a torrid topic of conversation.
It runs at the Ahmanson Theatre from May 29 to June 30, 2013.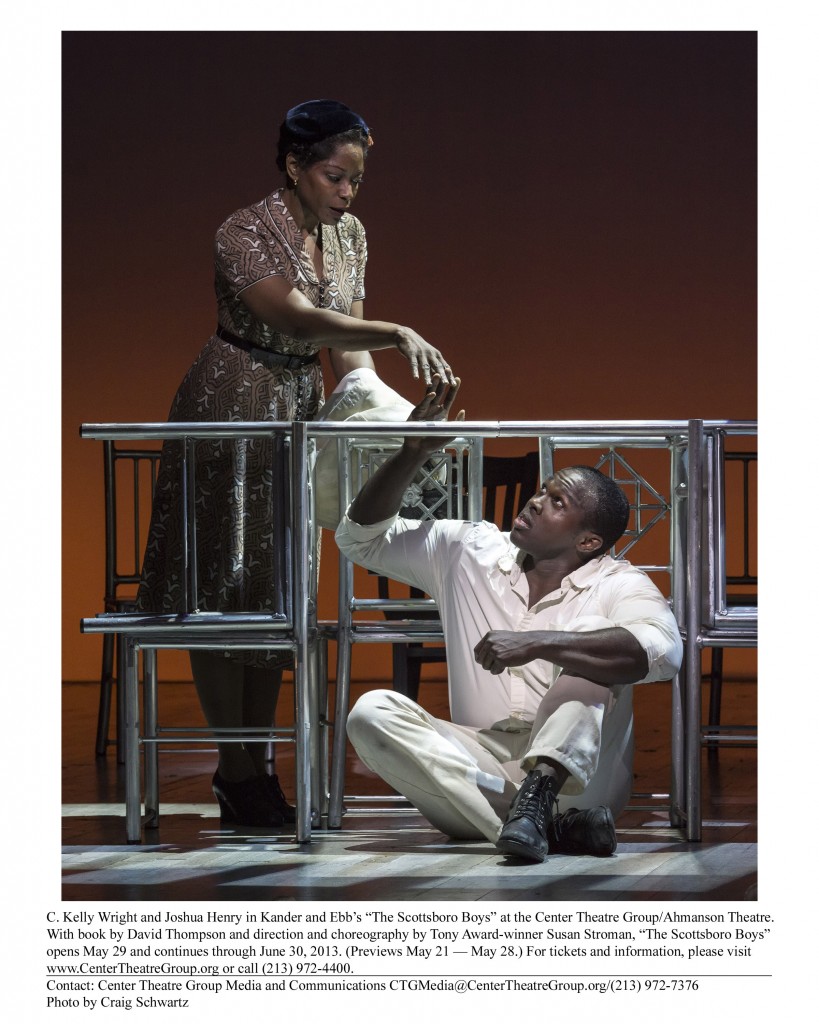 Trackbacks
Leave a Trackback