Frank Zanca and PopconLA-Spotlighting Elements of Pop Culture
Community News
,
News2
— By
Buddy Sampson
on June 15, 2012 at 8:17 pm
The Extravaganza, which will take place July 5th through July 8th will highlight elements of Pop Culture
By Buddy Sampson
Frank Zanca has a vision of an event spotlighting music, art, film, fashion, comic book aficionados and celebrities wrapped into one splendid extravaganza. Well, his vision is about to come to fruition. Zanca, the Co-Executive Director of the International Television Festival (www.ITVfest.org) will be debuting the 1st Annual Popular Culture Convention, PopCon LA July 5th through 8th, 2012 at the LA Convention Center. The event will be tent-poled by the 7th Annual ITVfest. 
What makes this event different from other similar events, you may ask? "I think it's different because it's an amalgam of different art forms where the attendee may have any different interests and not lack for things to do," said Frank Zanca. "So it has a little bit of Comic-Con to it, a little bit of fashion week, as well as art and music and a whole lot of creativity. It's simply a group of creative people displaying their visions, which is awesome. I don't believe anyone is doing something similar on this scale." The mission of PopCon LA is to spotlight elements of popular culture, which is something that appeals to a varied cross-section of consumers.
Speaking of comics, Zanca comes from a comic book background, having written his first comic book in 1995, entitled Shadow Raven, which morphed into a game he designed called, "Shadow Raven: the Combat Card Game." Shadow Raven later developed into a well-received novel and audio book. Additionally, he penned a Holocaust biography named "Escape from Berlin: The Diane Jacobs Story," which garnered coverage from CBS, amongst others. A marketing whiz, Zanca served as CFO and later, President of two independent marketing firms. He is currently president of Destiny Horizons, Inc., which is the production company behind the Supernatural Western Six Gun Savior, starring Martin Kove, Kaleo Griffith and Matthew Ziff. Eric Roberts is currently in talks for the role of the Devil. http://www.facebook.com/pages/Six-Gun-Savior/147236725345612 and a femme fatale spy show that is currently being pitched to BET starring Tim Russ (Star Trek Voyager). http://www.facebook.com/pages/CATs/243626105696821.
The event in July will feature a variety of amusements, shows and seminars, including a Q&A with some of the cast members of Superman II, who haven't been together in over 30 years, including Margot Kidder, Jack O' Halloran and Valerie Perrine. Other celebrities slated to appear are Billy Dee Williams, Sean Young and Michael Biehn, and James Hong just to name a few. A celebrity fashion show, which will be coordinated by fashion guru Parris Harris will be one of the highlights of the event. "He's been a trooper for us," said Zanca of Harris."He's gone above and beyond to make this event a great success."
With the vision of Frank Zanca's dream on the horizon, it promises to be an event to remember and with his lofty accomplishments, who would bet against it? Attend PopCon LA and be part of a unique event that is the first of its kind.
For more information, visit www.popconla.com or www.facebook.com/popconla.
Readers get a 15% discount utilizing the promotional code: "scoopla."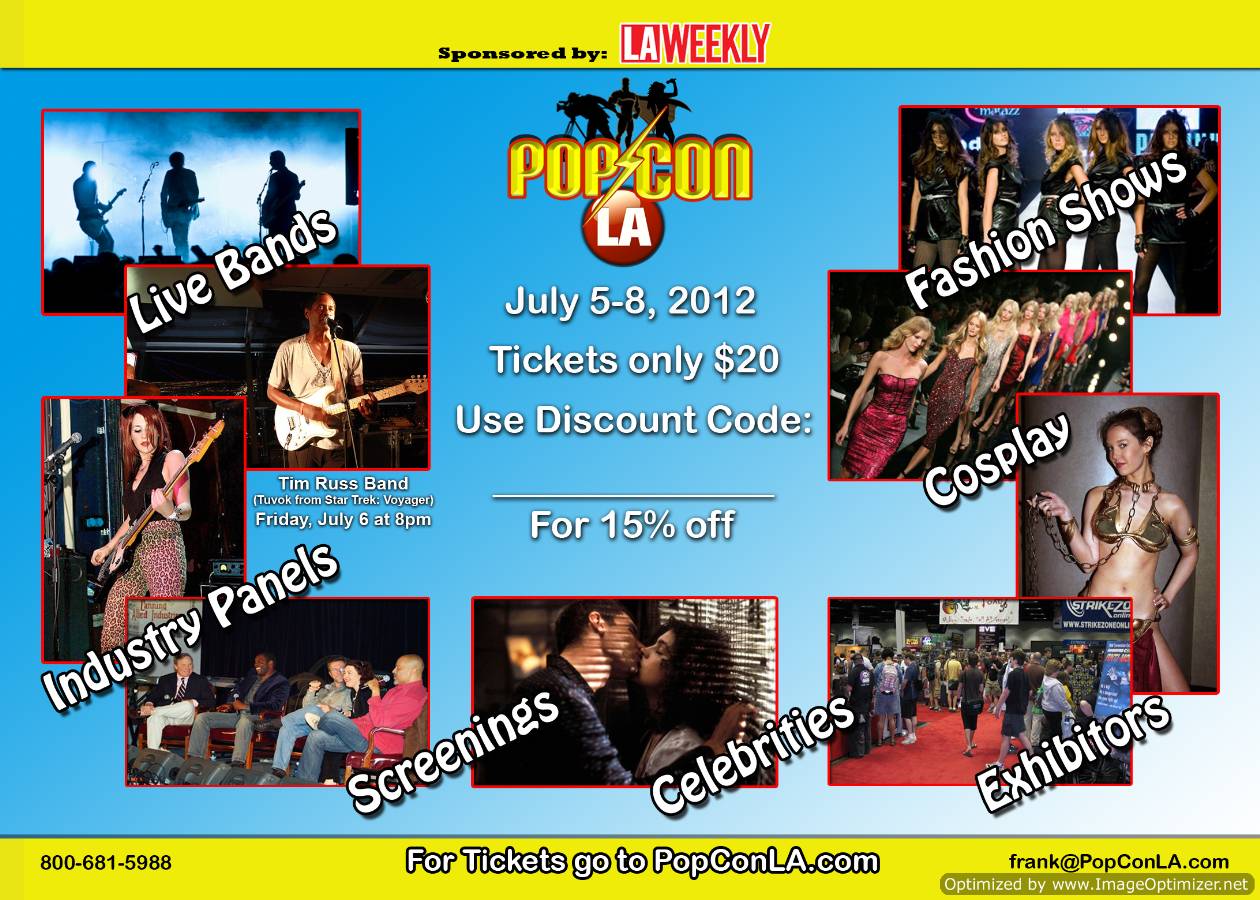 Trackbacks
Leave a Trackback