Jennifer Day
News2
— By
Buddy Sampson
on May 26, 2010 at 12:29 am
Steven Bauer and Jennifer Day Star in SHOWSTOPPER
The feature film, "SHOWSTOPPER," is a classic "whodunit" murder mystery.
"SHOWSTOPPER" is a film that features a story reminiscent of the film noir of the 40s, a classic murder mystery. It is a thriller, a spine-tingling film, with suspense, which will hold audiences spellbound until the very last frame.
Steven Bauer, an actor in over 50 films, is best known for his roles opposite Al Pacino in "Scarface" and Michael Douglas in "Traffic." He portrays a charming detective, fiercely determined to solve the murder case of a fabulous popstar, portrayed by co-star Jennifer Day. The film and soundtrack includes several original outstanding musical performances and songs.
The supporting cast includes Heather Salway, Rushaun Loriano, Jocelin Albor, and several other talented Hollywood actors.
This is the second film featuring a strong collaboration between Bauer and Day. Their on screen chemistry clicks immediately.
The feature is being filmed in several locations, throughout various Southern California venues and stages. Look for late 2010 theatrical release. This film is produced by Media Artist Group Films, in association with JFJ Productions & Andy Media.
Currently, there is no rating assigned for this theatrical release.

The Jennifer Day Valentine's Day Concert.
Jennifer Day performed with a few other girl pop singers and the Cougars & Kittens female comediennes. She appeared with her amazing and entertaining revue at the Jennifer Day Theater, February 9th, located at 13752 Ventura Boulevard in Sherman Oaks. It was a night of music, comedy and scintillating entertainment. But the fantastic entertainer is no lazy lady. She's been making the rounds, shakin' it up, hanging with the celebs and generating a buzz in Hollywood. She's in striking distance of superstardom and when she's a huge star, say you saw her in The Scoop LA first!
The event was produced by Media Artist Group, Ron Eckstine, and Sheila Thompson.  It starred Jennifer Day, Amanda Darling, Heather Salway, Katherine Olmedo, and Ysobelle, The Cougars & Kittens in Comedy Competition hosted by Jacqui Holland.
The Jennifer Day Experience
Her Valentine's Day concert was filled with sensuality, talent and laughter.
By Buddy Sampson
I've been able to attend Jennifer Day's shows before and I have to admit, it's quite a guilty pleasure of mine. Okay, so it's not a stretch that anywhere that has stunningly beautiful ladies is a place that, well, I should be. And guys, trust me, if you hear that Jennifer Day is performing with her revue, good sense should prevail and you should be there.
Jennifer Day's recent Valentine's Day show was no exception to the rule. Although this show didn't have a live band, the show was still wildly entertaining. For us, The Scoop LA, any show that has Jennifer Day headlining and the lovely singing of singer Ysobelle is a show worth seeing.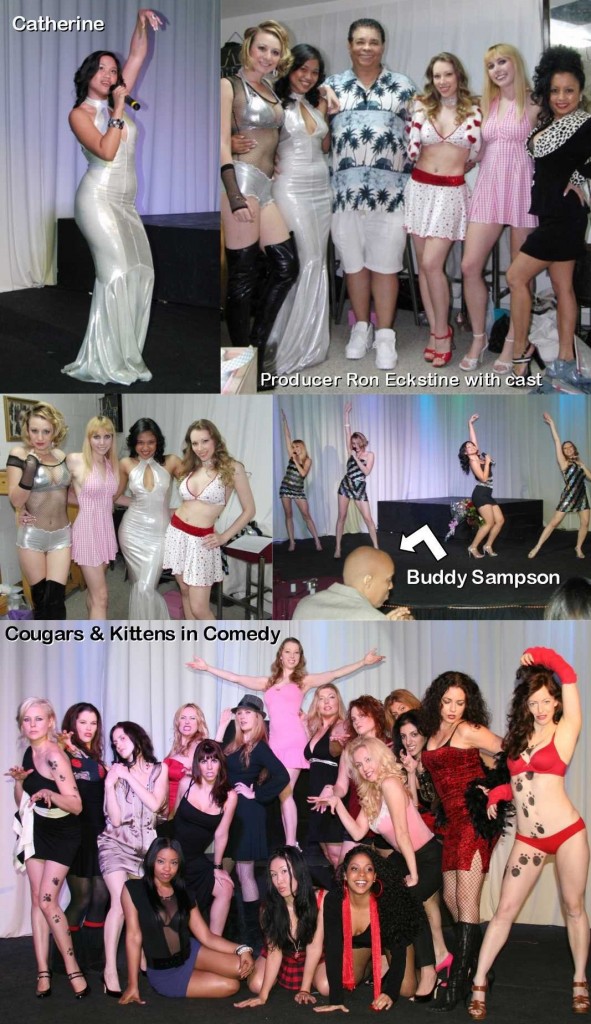 The Valentine's Day show 2010 had the usual Day staples- sexy dancing, tight tracks and an unsurpassed sexuality that doesn't hit you over the head. Guys, picture a sexy show with Dita Von Teese overtones, and you begin to get the picture. But ladies, Jennifer Day has something for you, too. Her jokes, tracks and sexy costumes will keep you entertained. And your guy will appreciate you later for it, I guarantee it.
Opening this night was a comedy routine with Jennifer Day and Ysobelle. I can watch Jennifer all day. She is a consummate performer, reminiscent of the vaudeville days with Mae West. Dressed in a Valentine's Day outfit lined with mink, Jennifer gave part of her outfit to an audience member to hold. Dancer/singer Heather sang to a nice track followed by Catherine, who sang well. She took the stage in a silver gown, had a great voice, looked just beautiful and had great stage presence. Ysobelle graced the stage next, dressed in a red gown. She is an excellent singer and her extensive club and cabaret experience shines every time she sings. Her voice is absolutely captivating. Also worth noting were the performances of Amanda, who has a bright future in store for her.
On this breezy Valentine's Day night, the show, which was produced by Ron Eckstine and Sheila Thompson, had a comedy competition, Cougars and Kittens. Hosted by Jacqui Holland, The Scoop LA judged the competition and there were several very funny ladies, many of which have a bright future in comedy. Many of the comedienne's that graced the stage had very funny things to say about the name of the competition. At press time, we don't have the names of these ladies, but will get a list of them soon. You should know the names of these talented comediennes because you'll be hearing about them gracing some of the biggest stages in Hollywood. After the comedy portion of the night, Jennifer did her big shoe routine, which is always a crowd pleaser. She even came and sat on my lap, The Scoop LA's Publisher. Trust me, I was quite embarrassed and turned a deep shade of brown.
Jennifer Day's next show will take place in May. If you miss this upcoming show, you'll be hearing that you missed the show of the year. For more information on the show, tune into The Scoop LA, www.thescoopla.com or visit www.jenniferday.tv.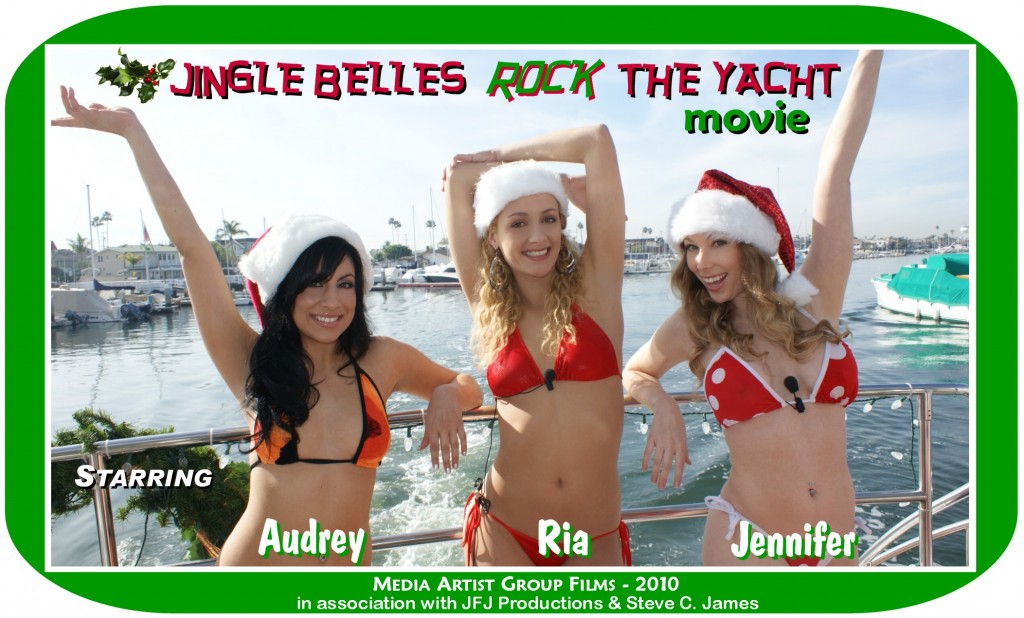 Jennifer stars in Jingle Belles Rock The Yacht, which also features Audrey Rachelle and Ria Alexander.

Over the holidays, Jennifer Day filmed a movie on a huge yacht, "JINGLE BELLES ROCK THE YACHT," a yacht cruising off the coast of Newport Beach, California.  Day and her girlfriends sang and danced for a live concert out in the open ocean on a gorgeous day.  "The movie shows the performances and all the behind the scenes of us in the dressing rooms and everything, you know, the good stuff," said Jennifer Day.  "I had such a blast making this movie. I love the sun, I love the sea, and I love singing and dancing in my bikini!"
Jingle Belles Rock The Yacht is a Media Artist Group Films Production, in association with JFJ Productions, Executive Producer – Steve C. James, Executive Producer & Director – Ron Eckstine, New York Producer – Antonio Fable.
* Starring Jennifer Day as Ginger, Audrey Rachelle as Holiday, Ria Alexander as Snowflake, and Rushaun Loriano as the Mermaid.


Mickey Stevenson's Birthday Party
CAP Studio, Media Artist Group, and Jennifer Day together own The Jennifer Day Theatre in Sherman Oaks.  Lonny Stevens from CAP Studio threw his brother, Mickey Stevenson a surprise birthday party.  Mickey Stevenson is a legendary songwriter and music icon.  He's also been in the audience for a few of Jennifer Day's live concerts. Most of his fame and success came from writing hits for and with Motown's biggest stars, and Motown's first A & R directors, one of whom that also came to the party, his long time friend, Smokey Robinson. Day met Smokey Robinson before at the Grammys at Barry Gordy's Motown party.  "He's an amazing artist," said Day. "As soon as I saw him I said, 'hi Smokey, you can stand next to me…and he did!"
Another guest of the party was Glynn Turman, a respected film & television actor. Day met Turman, a charismatic guy, for the first time.  "He was friendly, so I told him how great it would be to star opposite him in a movie," she explained. "He gave me a big smile. "
Of course Day has been known to be shy in front of a camera.
" I never pass up a photo opportunity, hee hee," gleefully said Day.
On November 13th 2009, Jennifer Day hosted a red carpet event at The Jennifer Day Theatre, where she interviewed music artists on the red carpet, and posed for pictures as paparazzi cameras flashed like fireworks.  Her fans got to feel the spotlight when they had the privilege of posing with their queen. Later, for a standing room only crowd, the artists performed and the audience clapped and cheered so loudly all in attendance ruled the evening was a smash hit.
The event was sponsored by CAP Studio, Media Artist Group, Jennifer Day Presents, My Act TV, & Lost Halo Syndicate.  It starred Jennifer Day, music artists KD Brosia, Tahir Moore, and other guest artists.
For my birthday, I went to Disneyland with my 2 girlfriends and filmed it as a movie.  We danced and pranced all around the parks all day in brightly colored dresses riding roller coasters and getting soaking wet on water rides.  It was funny, we may have upstaged Disney a little bit.  I have a feeling Goofy didn't mind, hee hee!  It was the most Fantasmic adventure in a sun dress and high heels I've ever had!
A Media Artist Group Films Production, in association with JFJ Productions, Producer – Ron Eckstine, New York Producer Antonio Fable, Director – Sheila Thompson

It stars myself, Jennifer Day as Jen, Rushaun Loriano as Virginia and Meli Paige as Candy.
"TRUNK" Wins Best Feature Film Award at the Valley Film Festival
TRUNK was accepted to compete in the Valley Film Festival. It showed on October 2nd @ 9:45pm at the El Portal Theater, 5269 Lankershim Blvd in North Hollywood. Singer/actress and performer Jennifer Day was very happy TRUNK was accepted into a festival that her friends & fans could go to.
So when the movie won the award for "BEST FEATURE FILM," at the Festival, a surprised Jennifer Day excitedly walked up to the stage and accepted the award on behalf of the TRUNK movie. "Wow, I'm so glad I got into the trunk," said Day, who smiled broadly when handed the trophy. "A big thank you to the producers John & Troy Palmer, Debbie Weisman, director Straw Weisman, and to all the people who came to watch our film. Thank you to my manager Ron Eckstine. Thank you to my Mom & Dad, & my family, I love you so much! Thank you to the Valley Film Festival, and to all my fans for supporting me, I love you!"
Check out the details: http://www.youtube.com/v/Gzjuhzc_aNc&hl=en&fs=1&border=1
Jennifer Day plays lead role in TRUNK. It's a psychological thriller about a serial killer who puts a young woman, Megan (Day) into his trunk. A microphone and speaker are strategically placed in the trunk so the killer and Megan talk to each other while he's driving her to his dungeon, telling her all the horrible things he wants to do to her, while she attempts to convince him to let her free. TRUNK is the story of a killer and his process…from the inside. It's the story of George and Megan, who are not exactly the perfect couple. He's a red-blooded, all-American murderer, she's about to become his next victim. TRUNK was shot entirely on RED CAMERA. "What would you do…if it happened to you?"
FOR More Information:
Link to the trailer:
"MARQUEE PRODUCTIONS in association with TRANQUILITY BASE PRODUCTIONS in association with MEDIA ARTIST GROUP FILMS presents a STRAW WEISMAN FILM, TRUNK starring JENNIFER DAY & DAVID BLANCHARD"
TRUNK will be released on DVD in December 2009, in just a few months, so be on the look out if you haven't seen it. Also, email Jennifer to stay in touch, and she will email you back and let you know what she's up to. JenniferDay@verizon.net
Marquee Productions
Director – Straw Weisman
Producers – Straw Weisman & Debbie Weisman
Conceived & Directed by Straw Weisman
Tranquility Base Productions
Executive Producer – John Palmer
Producer – Troy Palmer-Hughes
Media Artist Group Films
Producer – Jennifer Day
Producer – Ron Eckstine
Cinematography by – Richard Jaques Gale`
Edited by – Michael Spence
Music by – Andy Garfield
Sound Design by – Digital Dreams

Jennifer Day- A Multiple Entertainment Threat
By Buddy Sampson
Jennifer Day has it going on. The lady is a multiple threat, conquering acting, modeling, singing and performing in one amazing entertainment package. "Well I'm trying to get everybody excited about me," said Day, in a possible understatement, showing up for an interview at Starbucks impeccably dressed in a stunning white and black polka dotted dress accentuating dangerous curves. If those curves were on a highway, you'd have to slow down to 10mph, to drive them safely. "I'm doing a lot with movies as well," she said. "So when people find out about my movies, they look into my music and when people see me doing music they find out that I'm an actress and do movies as well. So it's kind of like having my foot in both doors."
Day, as many artists in the entertainment industry, started performing at an early age. Born in Detroit, Michigan to musical parents, as a child, she lived in Italy, the daughter of a Navy man. Her parents had a band, which did weddings and cabarets. There, she had one of her first experiences in front of an audience, by accident on an engagement her parents were doing. "I waltz in, four year old Jennifer, dancing and prancing around, singing, 'I'm a little teapot, short and stout,'" she laughed. "Everybody turned and looked at me and started applauding." The sound of the approval of the audience was immediately addictive. An entertainer was in the making. Day performed with her parents on some of their engagements. Later, she joined a dance troupe, performing with the ensemble for 15 years in addition to doing several high school productions. Later, she attended Central Michigan University, majoring in musical theater. "I really enjoyed the things I learned from the professors, they bought so much stuff out of me that I didn't know I had," said Day.
Recently, she starred in a movie called Park Bench Parodies, playing a character similar to Marilyn Monroe. "I actually play her in two different eras," she explained. "I play Madonna's Marilyn type in the eighties and then the Marilyn in the fifties." In that movie she plays a Marilyn Monroe imposter that finds out that the legendary James Dean is, in real life, her grandfather. She garnered that role by being noticed by a producer at the American Film Market Festival, who cast her for the part for Media Artist Group Films. "That's how I meet a lot of producers that make movies all the time and they remember me," she said. Her manager, entertainment mogul Ron Eckstine, has taken an active role in her career.
Day has completed, or is in process of completing, five films that will capture the attention of Hollywood. One of the films, a Media Artists Group project called, Christmas At The Ritz, a musical comedy, will spotlight Day's considerable talent. "It's three girls that are in a Destiny's Child, Supremes kind of girl act, almost like Dreamgirls," said Day, who portrays the character of Joli in the film. "So you have the part where they're on stage performing and then you have the behind the scenes of what goes on in the dressing room- the conflicts- funny, silly, girl stuff that we do backstage. In a lot of the film, we wear lingerie." Trust us, Day in lingerie is a sight to behold. Visit www.ChristmasAtTheRitzTheMovie.com for more details. Day also completed a movie, an action/drama in pre-production, Silicon Valley, www.TheSiliconValleyMovie.com, by Media Artist Group Films and Aztech Pictures opposite Steven Bauer, playing the part of Christina.
Day recently completed a film, Trunk, done by Marquis Productions, that was recently screened at the Egyptian Theater in Hollywood. "It was a psychological thriller," she said. "Right after the screening I did a concert, so I sang for everyone that came to see the movie." Currently, Day is working on a project, a Media Artist Group (www.MediaArtistGroup.com) and American Burlesque Troupe (www.amburtropro.com) film titled Park Bench Parodies, produced and directed by Emperor Frederick Von Seidl and Executive Produced by manager Ron Eckstine. Also, she did two roles in a film, a musical comedy/drama called The Netty Jo Story or How I Learned to Love Holly Woodland, www.TheNettyJoStoryOrHowILearnedToLoveHollyWoodland.com. "I really like films," she explained. "I like the idea of making a story from beginning to end."
She desires someday, to do TV sitcoms and with her personality, that'll be a lock. "I would just love it," she laughed. "It would be my home for a very long time." Entertainment is what Jennifer Day does, and she does it well. Expect huge things from her in the future. "Everything I do is mainstream, but I like to be playful and sexy and have fun with that and let the audience take it in their direction." The stunning lady, a multi-talented entertainer, clearly has it going on and is destined for superstardom.
Visit her website at www.JenniferDay.tv

See Article on Summer Heat in Entertainment
More on Meli? See: Meli Paige
Media Artist Group Films Presents:
Christmas At The Ritz
The film is a musical comedy that gives the account of a girl group who act, dance, sing and pursue show biz careers and the events leading up to their sold out live Christmas Concert one December night in Los Angeles. The happenings occur as the girls rehearse, gather and prepare for this special performance in their dressing room, a suite at The Ritz Carlton Hotel. Through their playful giggles and banter between one another, technical problems, we come to know their personalities and their close relationship and conflicts within their group. It culminates with a full blown live musical concert.
http://www.christmasattheritzthemovie.com
Media Artist Group Presents:
The Netty Jo Story, or How I Learned to Love Holly Woodland
Coming To Theatres Near You 2011.
This upcoming musical comedy stars Jennifer Day as a young country bumpkin turned superstar. A naive nineteen year old hillbilly, NettyJo, plans to travel to Louisiana to save her pig farm, she boards the wrong plane landing in LA, Los Angeles. She happens upon a mysterious wandering lady, Crystal, who takes pity and gives her a magical bag of clothing, which leads to a bizarre, glamorous adventure as a dual personality: one sexy, beautiful and talented named Holly Woodland, the other a country bumpkin, herself Netty Jo. As Holly, she becomes a movie star, music recording star, and supermodel. All her adventures lead to a surprise happy ending with an ironic twist.
http://www.TheNettyJoStoryOrHowILearnedToLoveHollywoodland.com
Trackbacks
Leave a Trackback