Commentary-Everyone Loves a Comeback Story
Commentary
— By
Buddy Sampson
on December 31, 2010 at 7:26 am
Thanks for stopping by The Scoop LA. This has been a tough year, both professionally and personally. A number of people left us this year, and I've been blessed to have met and interviewed many of them. Music legend Solomon Burke was interviewed in these pages and he recently left us. There was Ollie Woodson of the Tempatations, a wonderful man and singer, I've happened to have met and interviewed. Art Linkletter, a great guy I met when I first came to California, left us. There was Dennis Hopper, Dino De Laurentiis, Eddie Fisher, Gary Coleman, George Steinbrenner, John Forsythe, goddess Lena Horne, basketball star Manute Bol, Peter Graves, Leslie Nielsen, Robert Culp, Ronnie James Dio, Rue McClanahan, Tony Curtis, Teddy Pendergrass, Vonetta McGee, Billy Taylor, Bernard Wilson (of Harold Melvin and the Blue Notes,) Blake Edwards and many others that left us. But the death that affected me personally this year and took my breath away was my good friend and Associate Editor Deidra Burton Vines, who you knew as Deidra Burtonelli.
On this page, I've talked about subjects as varied as politics to sports. But when you lose a bright light like Deidra, none of that seems to matter. Deidra was encouraging, beautiful and fun to be around. I wish you guys had the opportunity of knowing her, she was awesome. If you knew her like I did, you'd be as devastated as I am. I think about her every day. To say I miss her would be a tremendous understatement. Meeting her was the best and worst thing that ever happened to me. The best, because she always told me that I can achieve. She once said to me, "Buddy, you have so much juice, you will be very successful someday." The worst because of the sadness I feel that I can't hear her call me "chicken legs" anymore. I was able to help her achieve the dream she had as a little kid, to interview stars. Her last major interview, and I gave her an assignment letter, was to interview Donald Trump in Las Vegas. We haven't printed the story, but we will. Honestly, it's been way too painful. But we will. Here is the link to her interview. We hope you can see that she was on her way to being a major star. (Link to be published soon.)
Deidra fought a silent and courageous fight. Up until the end, you would have never noticed that she was very sick and her energy and laugh were very contrary to sickness. She never complained, and I often asked her, "are you okay?" And although she was hurting, she never belied her illness publicly. One of her last words to me, when I picked up the bass after a long lay off, and played the House of Blues with the Sir Wynston Soul Jazz Band, was that, "I'm not going to be able to make it there, I'll be out of town, but I'm glad to see that you are following your dreams." That was Deidra, and the essence of her character. I will never, never forget her for the rest of my days and I hope that she's resting well with the angels.
Playing The Bass
Speaking of that, when I performed at the Falcon in Hollywood, for a tribute concert to Deidra, with the Sir Wynston Soul Jazz Band, I was determined that I was going play the best that I ever had in my life. I had a plan to perform, running around the stage, completely entertaining the audience. Well, I played, but the audience of over 400 guests had other plans for me. The dance floor was so crowded, I couldn't move anywhere. There was cheering and clapping and people calling out my name and I hadn't experienced that kind of thing, an enthusiastic response like that, since I performed in Europe in 1999 and I've never experienced that in Los Angeles. I believe that Deidra crossed my life to inspire me and it was truly God's will for me to perform. In 2011, God willing, I plan on playing more music. Over the years, I've been blessed to grace the stage with Leslie, of the group New Birth, Edgar Winter(who sat in with a band I was performing with in Europe-The Frankenstein guy) blues legend, JJ, "Bad Boy" Jones and guitar legend Steve Cropper, among many others. I love playing and performing and I promise to let you know when I'm playing next. I hope you'll give me the opportunity to entertain you.
President Obama, Michael Vick and the Power of the Comeback
You know, everyone loves a good comeback story. A couple of weeks ago, Michael Vick, of the Philadelphia Eagles football team was playing against the New York Giants and the Eagles were 21 points down with not much time in the game. They came back and won. But Michael Vick, the quarterback, had been written off. He was in jail in a well documented case in the media and his NFL career seemed to be over. But look at how far he has come. He is now ranked as one of the best, if not the best quarterbacks in the NFL and he showed everyone that you should never give up. President Obama congratulated him. Speaking of comebacks, Obama himself exercised quite a comeback himself. Three weeks ago, all the pundits, including myself, by the way, wondered what the heck he was doing to extend George W. Bush's tax cuts to the wealthy. But Obama was shrewd. He knew that he had to exercise a compromise with the party of "no" and Mitch McConnell in order to get important legislation to go through, like extending unemployment benefits, repealing "Don't Ask, Don't Tell," which now allows gays to openly serve in the military, a trade deal with South Korea and getting the Senate to ratify a nuclear arms treaty with Russia. And that was just in the last two weeks. Now if that isn't a comeback story, nothing is. The man is amazing.
We have a gorgeous new Ms. Scoop, Camille Solari, who ends 2010 on a stunning note. Kim Webster did a fantastic story on the late Teena Marie. We have a story on Sam Cooke. And writer Andrea Knight did a story on Vesta Williams, who starred at a show for a new exciting network, Punch TV. We will be giving you some great stories in 2011. And you know, it really has been a tough year. But as I said above, everyone loves a great comeback story and I encourage you to have a comeback story of your own. As in a rock song, "We Will Be Victorious," as long as we put God first, or if you're not religious, Your Higher Power will guide you. Let's make love a priority in 2011. On my desk at home, I have a ornament, a rabbit that has one word on it, "Believe." That is what I urge you to do. Believe. Have faith. Always, always put God first and watch the results unfold in your life.
I do hope that the Lord blesses you and keeps you and that you all have a prosperous, safe and healthy 2011.
Many Blessings and Love to you.
Buddy Sampson, Publisher, The Scoop LA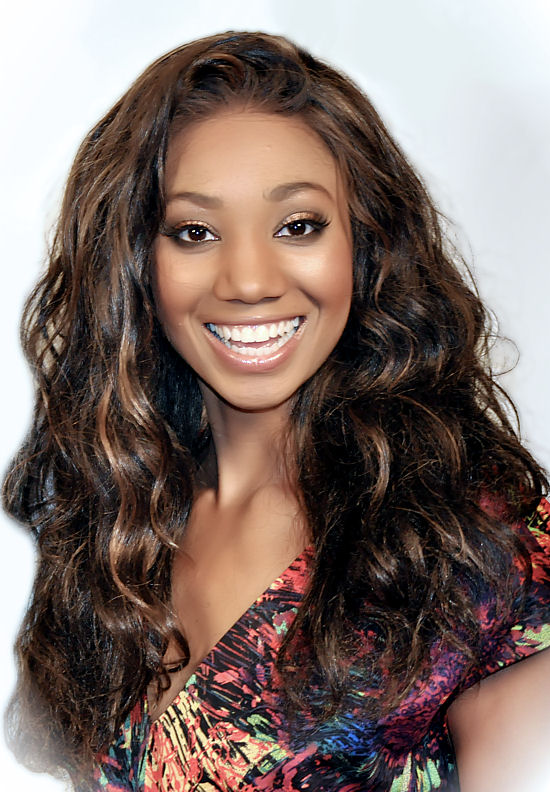 Deidra Burtonelli (Deidra Burton Vines) 1986- 2010