Cafe 50's -A Fifties Style Restaurant in 2010
Restaurant Row
— By
Buddy Sampson
on November 12, 2010 at 6:30 am
Cafe 50s, located on Vermont Avenue near Los Angeles City College, has a 50's style motif.  Pictured above- Cafe 50 owners Craig Martin(L) and Peter Kuyanov.
Ah, the 50s. It was a simpler time. Rock and Roll music was in its inception, with artists who dominated the airwaves like Little Richard, Bill Haley and The Comets and Jerry Lee Lewis. Crooners, like Nat King Cole and Frank Sinatra romanced the ladies. There were grey flannel suits and dresses with pinched in waists and high heels. Presidents Harry Truman and Dwight Eisenhower ran the country. And drive in theaters, sock hops and burger joints were all the verve.
Cafe 50's, located at 850 N. Vermont Avenue in Los Angeles is an eatery and diner that's a throwback to that wonderful era. "It was a great period of time," said co-owner Peter Kuyanov, a very funny and jovial guy that seems to keep a perpetual smile on his face. "I would like to be back in the 50's. It was a great period of time, a lot of fun, great people, values were different and just a good time then-good, clean fun." Walking into Cafe 50's is like taking a time machine back to that era. It has terrific 50's memorabilia, a juke box that plays music from that time and extremely friendly waitresses and waiters that smile and seem to love their jobs. "I've been in West Los Angeles for 22 years and we finally came to this part of town," said Craig Martin, who also co-owns the restaurant. "It's across from the college (Los Angeles City College) and I love it because it has high ceilings and it's related to the 50's because of the memorabilia."
It's the second one of its kind, the first being a restaurant in West Angeles designed with a similar motif. This restaurant's atmosphere is nothing short of amazing. It has posters from movies of the time and its atmosphere reflects the mood and spirit of the 50's. The location has seperate rooms and each of the rooms all conform, to you guessed it, the 50's. You'll see covers of Life Magazine, Look Magazine and items that you think would belong in a museum.
The Scoop LA attended the grand opening, but we decided to return to the restaurant to get a true feel of its food and ambience. Our waitress was Daniella, a pretty and very friendly lady, who treated us as if we were her only customer. She was terrific and a real joy- a complete throwback to a time of excellent customer service. We tried the Philadelphia Cheese Steak Sandwich with roast beef, onions, mushrooms and bell peppers. While it wasn't the classic Philly Steak (the writer of the article is from Philadelphia) it was nothing short of excellent.
Cafe 50's has fountain drinks and shakes, hamburgers, Pastrami sandwiches and blue plate specials, such as N.Y.Steak, Southern Fried Chicken and Chicken Picatta. Their food menu is extensive and they serve breakfast all day. The prices are very reasonable and it's a perfect place to dine if you want to take your date or party to something a little out of the normal style of restaurant. Cafe 50's is where to go for a wonderful dining experience. The Scoop LA highly recommends this restaurant. But what makes this restaurant special? "Craig Martin," said Kuyanov, laughing as he complimented his friend and co-owner of the Cafe 50's. But Kuyanov is being quite modest. He and Craig Martin, its wonderful staff and its terrific ambience makes Cafe 50's a place you must frequent.
Special thanks to the lovely Jenn Laskey who invited us to attend.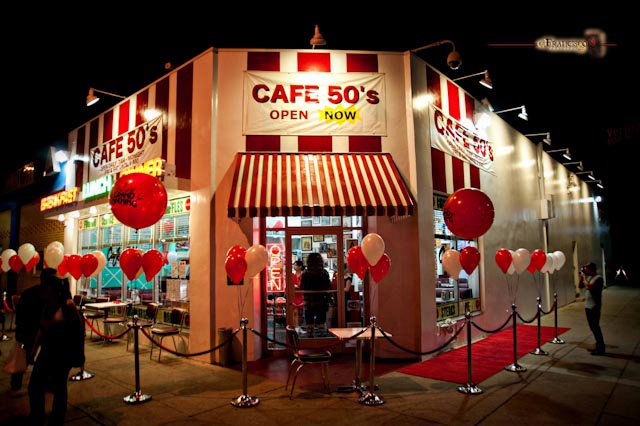 Cafe 50's On Vermont Avenue-Photo by C.Francisco.
Cafe 50s memorabilia includes classic posters from albums of the 50s.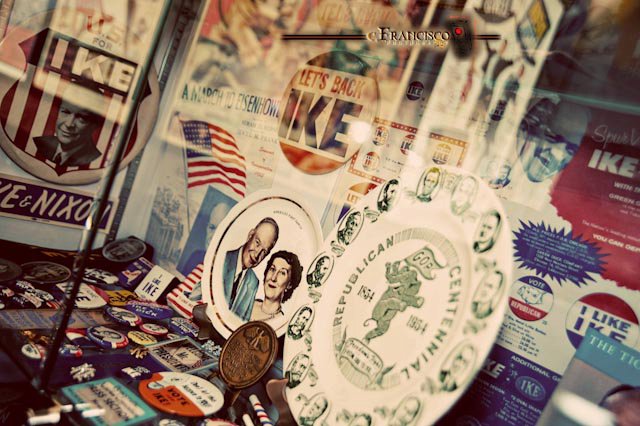 The memorabilia of Cafe 50s reflects the political atmosphere of the time.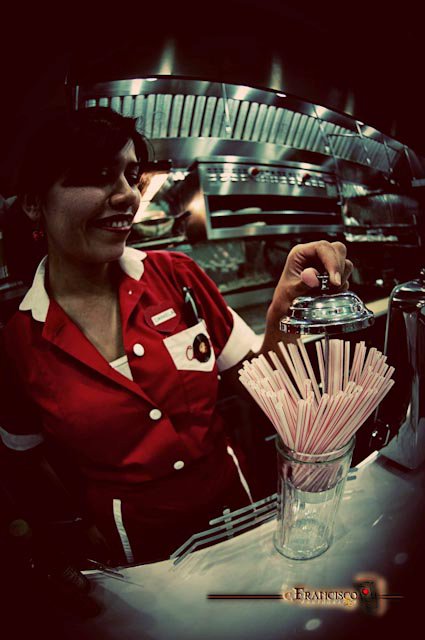 Cafe 50's Daniella.
All Photos by C. Francisco.
Cafe 50's
850 N, Vermont Avenue
Los Angeles, CA 90029
(323) 906-1955
Deliveries: (310) 441-2483
For more information, visit www.cafe50s.com
Trackbacks
Leave a Trackback