Lucia Mad At The Sherry Theater
Theater
— By
Buddy Sampson
on November 12, 2010 at 12:57 am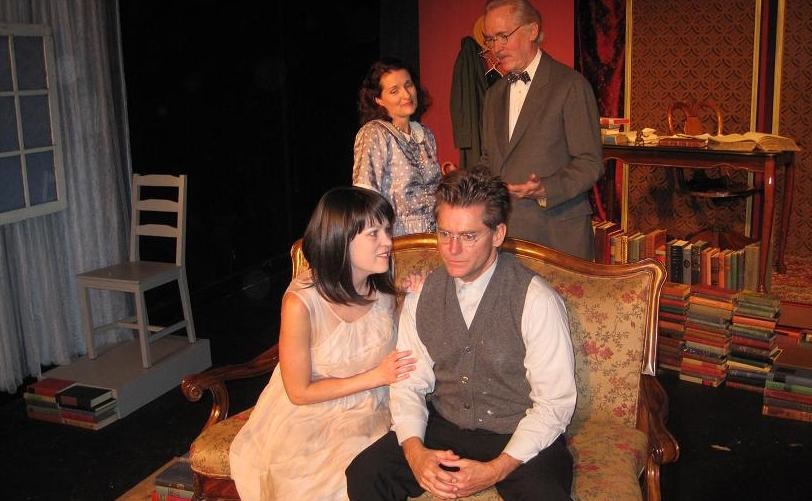 Meg Wallace, (foreground), Pamela Daly, Robert Ross and Ian Patrick Williams in "Lucia Mad."
By Erica Carey
It was an evening of laughter and madness at The Sherry Theatre, located on Magnolia Boulevard in North Hollywood, as seven cast members brought the play, "Lucia Mad," to life. With only a single couch, a writing table, two wooden chairs, and books scattered about the floor, The Sherry Theatre was transformed into the home of Irish natives James, Nora and Lucia Joyce. Directed by Steve Jarrard, "Lucia Mad", is a play about the relationship between  20th Century Irish novelist, James Joyce, his mentally unstable daughter, Lucia and her obsession with writer Samuel Beckett.
Ian Patrick Williams does a wonderful job portraying James Joyce who is a loving, caring father and husband, but is more involved with bringing his world to life through the written word, than paying attention to his family. Williams shows how career and family play a role in his daughter's demise. Constantly writing and conversing with his fellow literature patrons, he invites admirer Samuel Beckett, played by Robert Ross, to help dictate his ideas on paper. Ross plays an awkwardly quiet apprentice to Joyce. Ross' demeanor is uncomfortable and unsettling towards Lucia, who is delighted to have the presence of another man in the house. Meg Wallace plays a captivating Lucia, whose solitary life in terms of male companionship leads to an active imagination, as she becomes smitten with Mr. Beckett. After dominating every one-on-one interaction, Lucia blatantly states her true feelings of love and lust towards Mr. Beckett. Beckett is uncomfortably shocked and doesn't reciprocate. This is the beginning of Lucia's obsessed madness towards Mr. Beckett. Wallace(Lucia) takes over the stage with daydreaming antics and a childlike demeanor due to her mental decline. Pamela Daly shines as Lucia's mother, Nora, who spends her days comically coping with entertaining her husband and his novels, while staying grounded about her daughter's progressive illness. Daly put a dry comedic twist to the character making her witty with sarcastic remarks.
Meg Wallace and Robert Ross in "Lucia Mad."
Actors Quincy Miller, Ken Schmidt and Dan McNamara had supporting roles in the story. Miller played comic interlude to the stories most tense moments as Mr. Beckett's friend, Thomas McGreevy. Schmidt plays the role of psychiatrist Carl Jung, who delivers a heartfelt diagnosis of Lucia. McNamara captures the sinister essence of the evil Pimp and later in the story, he takes the character of Napoleon, a playful, silly friend of Lucia's in the mental ward.
"Lucia Mad" is an intriguing story of a family's unraveling. It is a lighthearted story against the backdrop of a serious family matter.
"Lucia Mad" will be performed at The Sherry Theatre and extended through November 21, 2010. Shows are Friday and Saturday at 8:00pm and Sunday evening at 5:00pm. Admission is $20 per person. For reservations, please call 323-860-6569 or visit:  
www.Plays411.com/luciamad for online ticket information.
Trackbacks
Leave a Trackback