Noa G-Fashion Designer With an Exotic Flair
Beauty
,
Fashion
— By
Buddy Sampson
on November 9, 2010 at 5:37 am
Noa G-Fashion Designer With an Exotic Flair
By Buddy Sampson
Finding a designer that understands your sense of style and glamour can be an arduous task. Not all pieces a designer creates is "one style fits all." Designer Noa G understands what makes women look great. "I think Noa G's designs are very edgy and contemporary," said entrepreneur, dancer and event producer Maria Amor. "I like them, I like wearing her stuff." Noa G was born Ahinoam Gafnit, in Rishon LeZion, a city near Tel Aviv. Her designs have been popular fixtures at several fashion shows, including a recent Maria Amor Exotifit Halloween event, "Dare To Be Bare" and two other Exotifit events. Magazines, such as Society Magazine have wanted her designs on the cover of their magazine. Red carpet divas have requested her designs to make a splash on the carpet.
Noa G has the designer gene deeply imbedded in her. "On my Mom's side, there's like seven designers we have in the family," she reflected. At the age of 25, she lived in one of the fashion capitals of the world, Paris. "I have one brother in Paris, he has a big factory there, "she said. "So I came from that world, the designer world. Basically, since I was a little girl, I knew I was going to be a designer." When Noa G was a mere ten years old, she had a traumatic, deeply personal experience in her life that inspired her to begin her career as a designer and creative soul. "The day after that, I started to paint something," said Noa G, who declined to give details of her disturbing experience."I was like a little girl and I painted like an old lady." Her tenure as a painter eventually propelled her to try her hand at designing clothes. "I didn't know what exactly I was going to design. but I knew definitely that I was going to be a designer." In her native city of Tel Aviv, she began to dabble in design, after all, she had a family member that proved instrumental to her destiny as a designing icon. "I was with my cousin and he had a factory," she said. "I was with him and I tried to help him, and he said, 'no don't touch that,' and I said, 'please let me help you." Her cousin relented, and she began to learn the fashion trade. She attended Miriam School of Design at 17, and it was there she learned the technical aspects of clothing design. "It was great, but you really learn, with experience, how to be a designer," she said. "But it gave me some tools."
When she was 18, she made her first dress for a friend. "I had did a lot of stuff for myself, but at 18, it was my first dress," said the amazing and talented designer. "She's like, oh my gosh, this is beautiful. It was the first time that someone admired my work. It felt so good, I was so excited." That excitement hasn't waned at all. Noa G has that same sense of excitement every time she creates a new piece. "I have the passion and I love what I'm doing, I love it," said the stunning beauty. "I can work like 24/7, sometimes I'm exhausted, but I'm happy and excited about everything I do." Noa G took two years out of her life to serve in the Israeli army, then travelled to Paris to study at an elite fashion school. She later returned to Tel Aviv and opened her first fashion design studio at the young age of 22.
Noa G, who admires several clothing designers, lists Valentino as her all time favorite. "He is unbelieveable with fabric, " said Noa G. "I thought maybe, one day I can be like him." The immensely talented designer, however is making a name for herself. Speaking of names, she came up with the name Noa G by accident. A letter fell off one of her portfolios, a "M" and the name Noa G was born.
The mega-talented lady has several projects in the works, including a project for the cable network Bravo. She designs fashions for women of all ages, including swimsuits, evening wear, fantasy designs and haute couture fashions. She knows how to bring the best out of every woman with her sensational and exotic designs."They make me feel sexy, like a real woman, exotic," said Maria Amor. "That's what her designs are like, exotic, very exotic, with an European flair, plus her originality as well. I like that, and that's why she's my favorite designer."
Visit her website at www.noagdesigns.com. Want to have her design your next piece? E-mail her at noag@noagdesigns.com.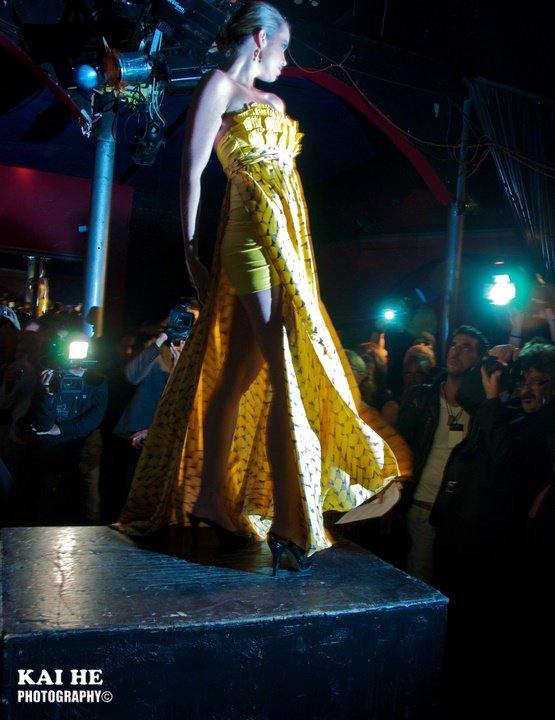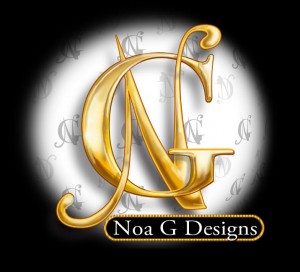 Trackbacks
Leave a Trackback