Hello, From The Publisher
Commentary
— By
Buddy Sampson
on November 2, 2010 at 8:13 pm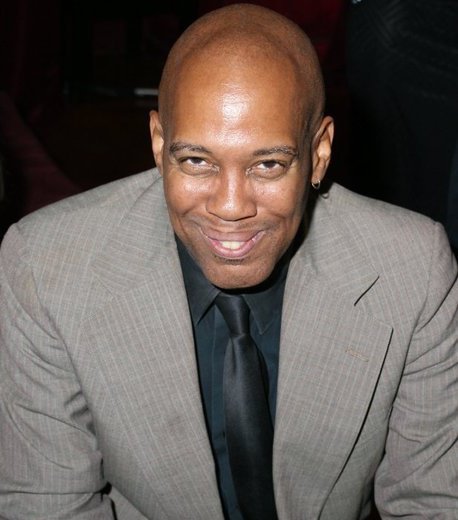 The Scoop LA Publisher, Buddy Sampson. Photo by Diana Ligon 
So much has happened with The Scoop LA! 
For those of you that are perhaps visiting for the first time, know that you won't find gossip, innuendo or tabloid stuff in The Scoop LA. If you want that kind of thing, there are plenty of publications that will give you all you're looking for and more. We're a publication that likes to spotlight those that are doing wonderful things in hopes to inspire others to do great things. We'll be getting some pretty exclusive interviews soon with some amazing people and you'll love reading their stories.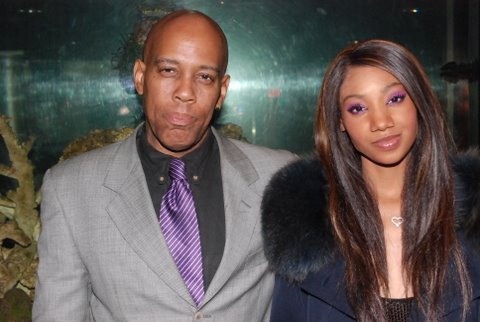 Deidra Burtonelli (pictured, right) at the Aqua Lounge in Beverly Hills 
First, I have to mention the loss of our former Associate Editor and staffwriter, Deidra Burton Vines, aka Deidra Burtonelli, who passed away September 16, 2010. I took over as Publisher of The Scoop in 2008 and Deidra was a major part of that story. We were a team and fought the wars that new Publishers have. She, particularly in the beginning of my tenure as Editor-In -Chief, was my soldier in arms, an integral part of our success and a terrific journalist. We explored a lot of new frontiers together and I'm happy to have been a part of her life as well. But more than that, she was my dear friend. I will miss her laugh, her jokes and her timeless beauty. There will be a lot more written on her. She has a very poignant story.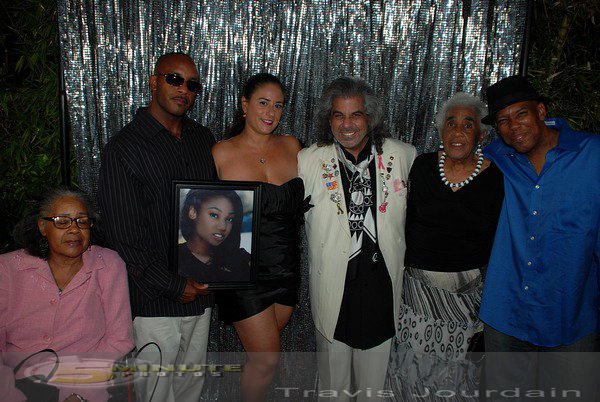 Deidra Burtonelli's family proudly displays a picture of the lovely writer. Pictured (l-r) Tangya McLean, (Deidra's mother), Derek Burton (Deidra's brother), Jasmine Kashimi, David Harrison Levi, Louise Bartholomew (Deidra's grandmother) and The Scoop LA Publisher, Buddy Sampson, (R). Photo by Travis Jourdain.  
We honored her at the Falcon Restaurant in Hollywood and it was a grand affair. David Harrison Levi, a wonderful friend, dedicated his Cancer Awareness Event on Wednesday, September 29th, 2010 to Deidra Burtonelli.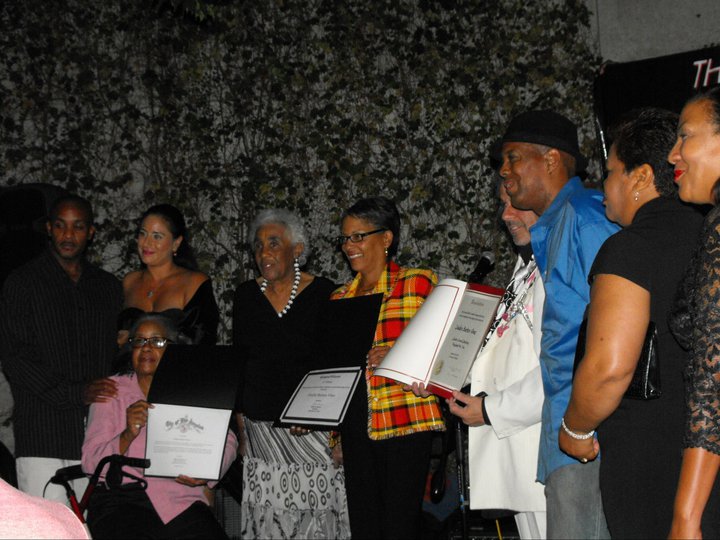 Deidra's family receives awards from the City of Los Angeles in honor of Cancer Awareness. Pictured (l-r) Derek Burton, Jasmine Kashimi, Tangya McLean, Louise Bartholomew and Fabian Wesson, Consultant, California State Senate as David Harrison Levi and Buddy Sampson, look on.  Photo by Amber Bollard.
California State Senate Consultant Fabian Wesson appeared, and presented Deidra's family with awards in Deidra's honor.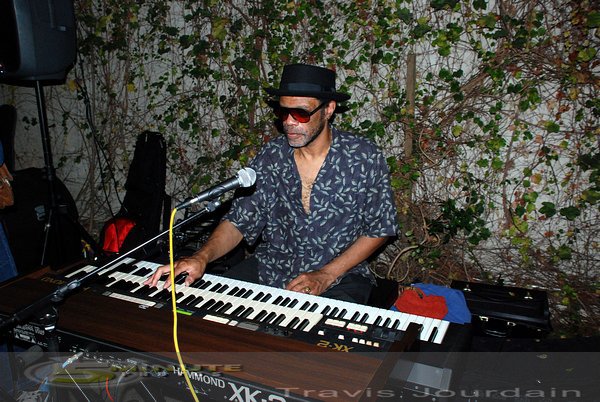 Sir Wynston. Photo by Travis Jourdain.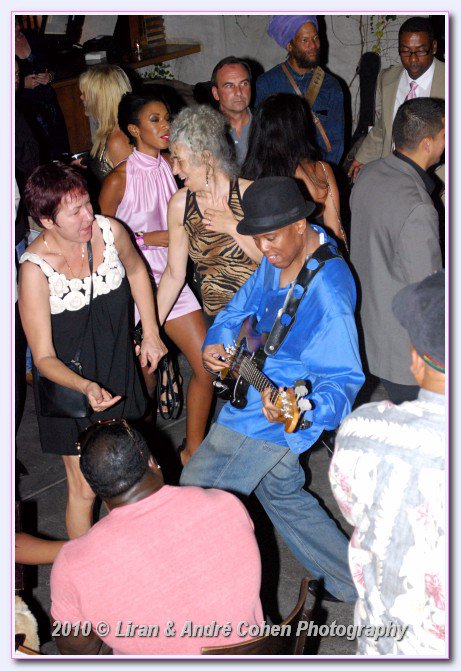 I picked up my bass and performed with the Sir Wynston Soul Jazz Band. Sir Wynston (Wynston Perry) was gracious enough to allow me to headline his band and we opened the show and partied. After all, Deidra's spirit was so bright and uplifiting, that she wouldn't have wanted us to remain sad, which is a difficult task, but we got the audience up and dancing. We had a great time in her honor.  Last week, I had the wonderful privilege of appearing on The Mic Wom Show and my segment was devoted to remembering my good and lovely friend Deidra. We will let you know when it will air.
For those of you that don't know, I'm a musician first and a journalist and Publisher second. I will be performing soon with my own band, but look for more performances from me with The Sir Wynston Soul Jazz Band. He has a regular bassist that performs with him, but he calls me from time to time. I'm okay as a bass player, I guess, but I love to see people dance. I like to think of myself as a performer, so if you come to see me play, I guarantee you'll have a good time and be sure to bring your dancing shoes. 
I have to take time to mention my good friend Marianna of Marianna's Designer Jewelry, located at 840 S. Cecilia, Los Angeles, CA 90014. (213) 688-7771. I went to an event of hers recently and many of the models were wearing her spectacular designs.  She sent me a couple of diamond-looking earrings that look so real, I'm afraid to walk in the wrong area at night. People will think I'm rich! I can't wait to put them on, talk about bling! But I recommend that you buy from her shop. Her hypoallergenic jewelry will make you the talk of the town. Contact her at (213) 688-7771.
I want to give a shout out to my good friend Andrea Knight. Andrea and I worked on Obama's campaign for a telemarketing company and when I was in process of taking over The Scoop, she found a domain name (The Scoop Newspaper domain name wasn't available) and that's how the newspaper is now named The Scoop LA. Has a catchier feel than The Scoop Newspaper, huh? I ran into her at the taping of The Mic Wom Show and it was good to see her again. I'll be appearing on her show to talk about The Scoop LA and I'm excited and honored that she asked me to be a guest.  
We are in difficult, but crucial times right now. Our President, Barack Obama has his hands full. But he's done a lot since he took office. The problem is that his administration doesn't seem to give itself enough credit and toot its own horn. Someone needs to be an advocate for his presidency. Now, to paraphrase former President Bill Clinton's words on the campaign trail recently, Obama inherited a deep hole and he done a great job, filling it back up. He saved our economy from total collapse. Now we need to give him time to finish what he started and focus on jobs. I encourage all of you to get out and vote in every election.  While I'm a card carrying Democrat, I encourage you as Democrats, Republicans and Independents to get out and make your voice heard. We can make change with our vote. I say we give our current administration a chance. Yes, our president has made a couple of mistakes. But he's doing a fantastic job. Let's continue to support him. And I wish Republicans would stop being the party of "no," and give him some support. They need, in American government, to put politics aside and think of the voters that put them in office. Many people are hurting and the economy and jobs should be, Job 1.  Now that the election is over and President Obama got a bit of a spanking, we need to support him now more than ever. Someone on one of the political shows said that Obama just has to face the facts that people just don't like him. I agree. There are still, unfortunately, many factions in this country and in government that will never support him, as much as he tries to extend an olive branch. Bigotry is still alive and well in America, it's nowhere near dead. Too bad, because with the gridlock in Washington, we, The People are the ones suffering. I've never seen people in our country before, not in my lifetime, that are having such a tough time as now. We need to implore our leaders, on both sides of the political spectrum to be civil and remind them they work for the American people and we, as a people, couldn't care less about power struggles. We just want to work and support ourselves and our families. That needs to be the focus of our government right now. What government does affects the global economy, so we need to be cognizant of the effect we, as a government do, we as a people do and again, implore our leaders to be aware that their decisions affect everyone.
The Scoop LA needs salespeople and more writers. If you'd like to make some extra money and have sales experience, we'd love to hear from you. And, if you are a writer, particularly a budding writer and need experience, we'd love to hear from you, too. We're growing so much that it's now a challenge to keep content current. We are working on that problem and we appreciate your patience as we build our brand. You'll be seeing some new and exciting things from us. 
Finally, I'd like to say, from the bottom of my heart, that I love you all and dearly hope that you can all just hang in there and pray. If you have faith, I promise things will get better. Have the faith of a mustard seed, it can move mountains. I know that we, as a nation can move mountains. A pastor quoted a famous song, a James Taylor and Carole King song, "You've Got A Friend" in a recent church service. Know you always have a friend above, our Creator. Just Believe! 
Trackbacks
Leave a Trackback