New Image Emergency Shelter Celebrates 21 Years of Service
Columnists
,
Kim's Kronicles
— By
Kim Webster
on October 20, 2010 at 3:12 am
Comedian Michael Colyar (R) with wife Brooks.
LONG BEACH CA –

On October 16, 2010,
New Image Emergency Shelter for the Homeless, Inc. held its annual fundraiser and celebrated the life of the late William J. Moran. Attorney Moran was the husband of New Image co-founder/deputy director Lynda Moran and provided pro-bono legal services for the organization for over 18 years. New Image met a milestone in 2009 by serving over 2.1 million duplicate clients. CBS news anchor Suzanne Marques was Mistress of Ceremonies for the event held on the cruise ship Majestic.
Comedic performances were provided by Long Beach's own Funny Lady of Comedy joined by fellow comedians Gregory Gordon (a former client of New Image who now hosts a weekly comedy show in Long Beach), impressionist Bobby Law, and ventriloquist "Wood from Da Hood." Ensemble band The Usual Suspect, DJ Pure, and harpist Susan Wetzel provided musical entertainment. Among the many contributors were comedian Michael Colyar and his wife Brooks, recording artist/author Norwood Young (who also performed), Camille Winbush (Bernie Mac Show), Judi Evans (The Days of Our Lives), Thom Bierdz (The Young & The Restless) and talk-show host Wendell James. "I think it's our job to reach out and help other people less fortunate than ourselves," said Michael Colyar."It was outstanding," said Brenda Wilson co-founder/president/CEO. A proclamation praising New Image was presented from Los Angeles 9th District Councilwoman Jan Perry's office. All proceeds will assist with providing housing, job search/placement, and referral services for the homeless. New Image's main office is located at 401 E Ocean Blvd Ste. 705, Long Beach CA 562-983-7289. For more information, please visit www.newimageshelter.org.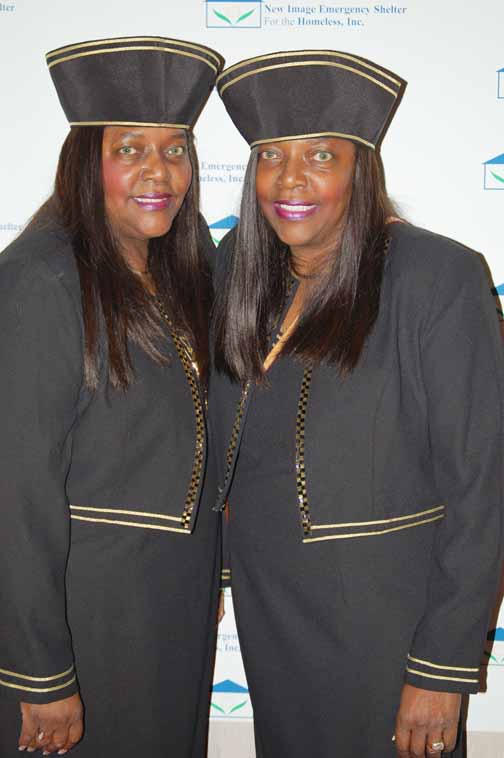 New Image founders Brenda Wilson and Lynda Moran. Photo by Kim Webster
 Both Photos By Kim Webster
Trackbacks
Leave a Trackback