Marianna's Jewelry-Featured at Exotifit's 1st Anniversary Sept. 7th
Beauty
,
Fashion
— By
Buddy Sampson
on September 6, 2010 at 5:32 am
Marianna's Jewelry
Marianne's Designer Jewelry shows have been described as a "Crystal Wonderland."
Exotifit's Maria Amor Torres will showcase Marianna's designs at The Dragonfly September 7th.
"I love Marianna's Designer Jewelry, they are simply exquisite," said dancer, singer, songwriter and entrepreneur, Maria Amor Torres, owner of Exotifit, which will have a bash commemorating its 1st Year Anniversary September 7th at the Dragonfly in Hollywood. Maria Amor will wear Marianna's exotic jewelry designs. "Her designs define beauty, elegance and class. After wearing her creations, I refuse to wear anything less stunning than hers. Each piece is meant for a queen and that's how I feel when I wear Marianna's, a star!"
 Elegance and sophistication are two elements that are of paramount importance in making an impression, whether it's a social gathering, a formal event or red carpet. Celebrities, luminaries and the social set often wear jewelry, which accessorize an outfit with that touch of "bling" that are the trappings of success and style. Marianna's Designer Jewelry epitimizes style and sophistication. They have jewelry for all occasions, be it weddings, events, social gatherings, premieres or red carpet presentations. Respected for their "vision and designs," Marianna's Designer Jewelry was founded by Marianna (Maria) Harutunian in 1995. The fashion forward designer's motto? "Great clothes open all doors, but great accessories will get you in." Marianna's pieces are created from scratch. They use over 35 Swarovski crystal colors, Sterling silver and 24kt gold as the make up for many of their designs. The metal is made of pewter and is electroplated into 6 different color options.
Well regarded in Hollywood circles, Marianna's has had a very impressive client and fan list. PINK, Cher, Bob Mackie, Hilary Duff and many other celebrities are clients and fans of her work. Network and cable television outlets, such as "Deadwood," "General Hospital," "The O.C.," and ABC-TV's "Dancing With The Stars" utilize Marianna's to bring grace and style to their productions. Her creations can be seen on one of television's most popular TV fixtures. "Currently my line is in the show 'True Blood,'" said Marianna Harutunian, who was told about the show by a client of hers that works for the show. "I love the show and having my jewelry in there made it all better." Additionally, large studios, such as Walt Disney, Inc. have relied on Marianna's talent and eye for years. A favorite among those that need that added element of sophistication that jewelry can provide, fashion designers, stylists and producers rely on Marianna's for style direction. They know that they can count on Marianna's to execute their vision. Hypoallergenic, each designer piece is hand crafted and made with a sense of purpose, love and originality. She even carries diamond stud earrings, for those guys that have their ears pierced.
As a designer that started at a very young age, she developed the vision of her designs from love of inspiration and creation. "My jewelry is like wearing art," said Marianna. "I have a different vision than from any other designer.It's unique. I design everything and make everything by hand." Today, in our current recessionary economy, Marianna's has jewelry that will fit any budget. "I have jewelry from $5 to $1,000 dollars," said Marianna. "The average pieces I sell in the store are from $15 to $25 dollars which are very reasonable prices. Some of the online stuff is a little bit more high end. But we have pieces that will fit all budgets."
Marianna's is a hit at trade shows. They are a feature of Las Vegas shows twice a year. Their shows have been described as walking into "a crystal wonderland." "I love what I do," said Marianna. "And it just looks great on women."
More on Marianna's? Visit www.ilovemariannas.com. Their telephone number is (213) 688-7771, Fax 213- 688-2832. Also, visit their showroom at 840 South Cecelia, Los Angeles, California 90014. E-mail them at: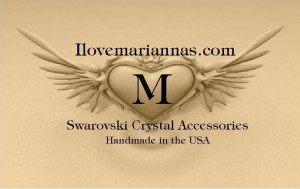 Trackbacks
Leave a Trackback