The Jennifer Day Indoor Beach Party & Live Concert
News
— By
Buddy Sampson
on July 1, 2010 at 10:56 am
Jennifer Day Arrives
Jennifer Days' Producer and Manager Ron Eckstein and Xango Henry
Margaux Amie
Yoko and Dave Santini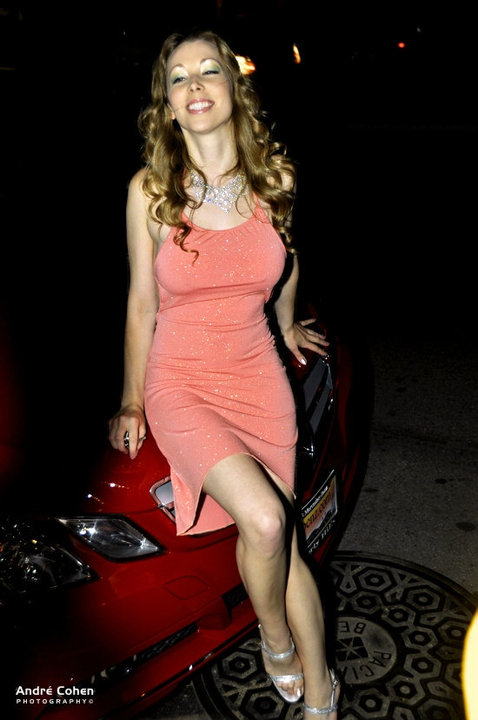 Jennifer Day
By Carmen Chaffin
Arriving in a red hot convertible, the infamous singer and performer Jennifer Day popped out, greeting her fans and paparazzi.
Attired in a dazzling bare all and leave nothing to the imagination dress, Jennifer took her audience on a fantasy indoor beach party that mesmerized all.
Donned in fairytale feathers and glitz, Jennifer's captivating voice and provocative stage act put Sherman Oaks on fire. "We're going to have a really awesome time," said Jennifer Day, when interviewed before the show. "It's so much fun, this is me, and I love it and I'm just like 'hello,' here I am, and we're going to have a grand old time."  And it was a grand time, indeed. It was a great time had by all, with Jennifer Day gathering a new legion of fans by her torrid performance on a summer night in Southern California. Jennifer Day delivered with act that was undeniably eye-catching.
Invited guests at the Jennifer Day Indoor Beach Party included Actress Jamie McCall, currently involved with several new projects."This year, it's mostly all about films," said McCall. "I just wrapped a feature film in the horror genre that's getting a lot of buzz."  The film  "Poe," an Edgar Allen Poe classic, has the author's traditional stamp. "It's very dark and gory," said McCall. " I won't be letting my family see it."
Actor Xango Henry amazed us with his stunning buffed body. He was proud to share it with us. Handsomely suited, minus the shirt, was a special treat for the ladies. Henry shared, with The Scoop LA, some of his upcoming projects. "I most recently worked on a project called  'The Average Ordinary Guy'," said Henry. "You can always visit my webpage, which is www.xangohenry.com. There's a lot of information about what I'm working on." Among the guests were actress Preity Uupala, a conestant that will compete in the Ms. India America competition, Producer Michael Milker, David Harrison Levi,
Margaux Amie of Fashion for Hope, a charity for the disadvantaged, shared with us their upcoming event on July 25th. "It's a gathering of fashion, fun, food, entertainment and more," said Amie. She was joined by David Santini and Yoko Rei Hayama.
We are looking forward to the release of "Showstopper" with Jennifer Day and Steven Bauer to be released in late 2010.
Trackbacks
Leave a Trackback