Jennifer Day gives a " Put the Blame on Mame" performance @ The CAP Theatre on Ventura
Eugenia Wright's Column
,
News
— By
Eugenia Wright
on July 2, 2010 at 10:56 am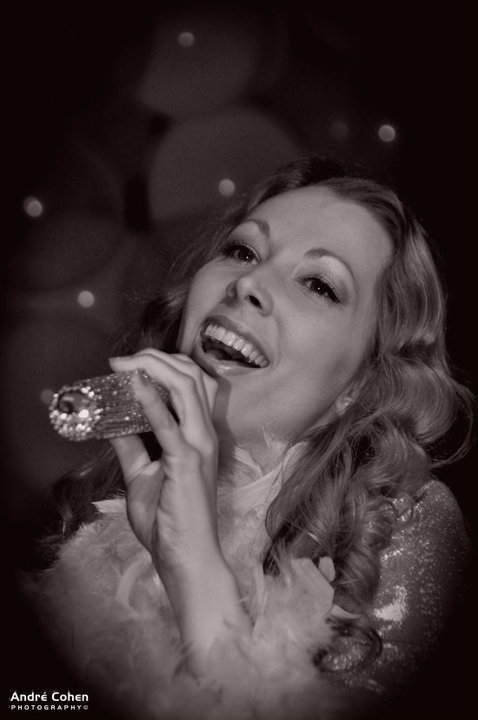 Jennifer Day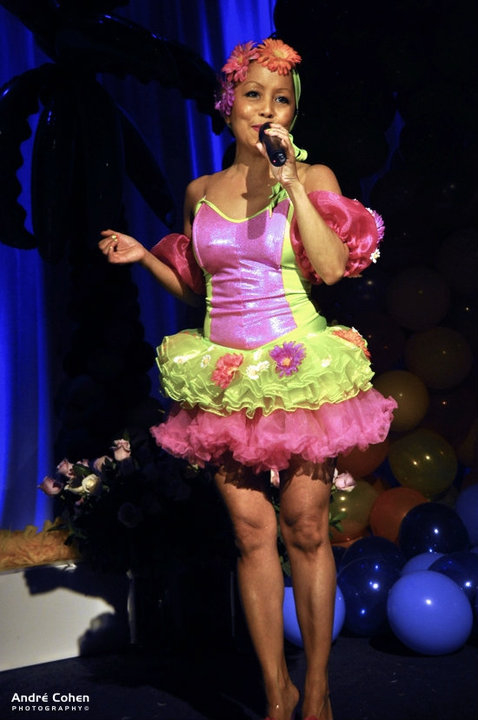 Ysobelle
Annie McKnight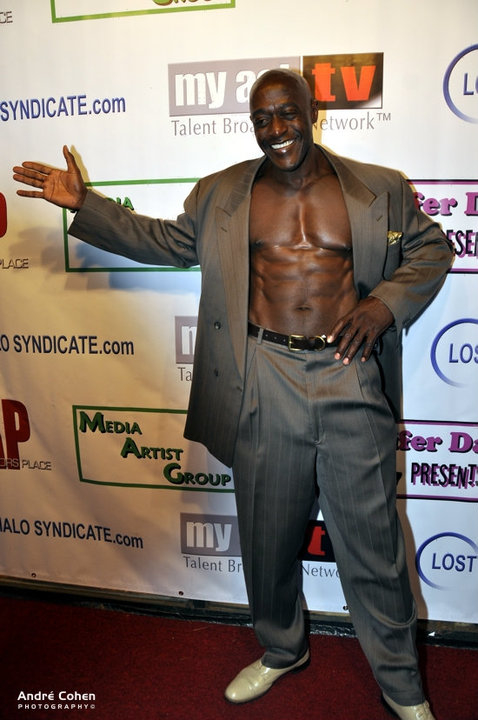 Xango Henry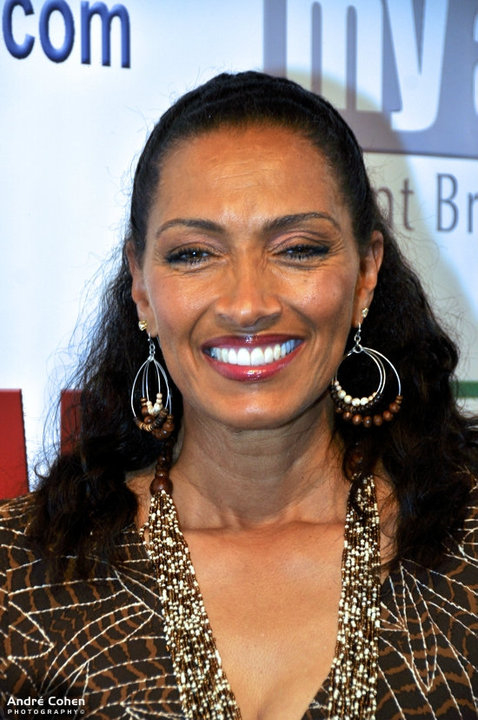 Kathleen Bradley Redd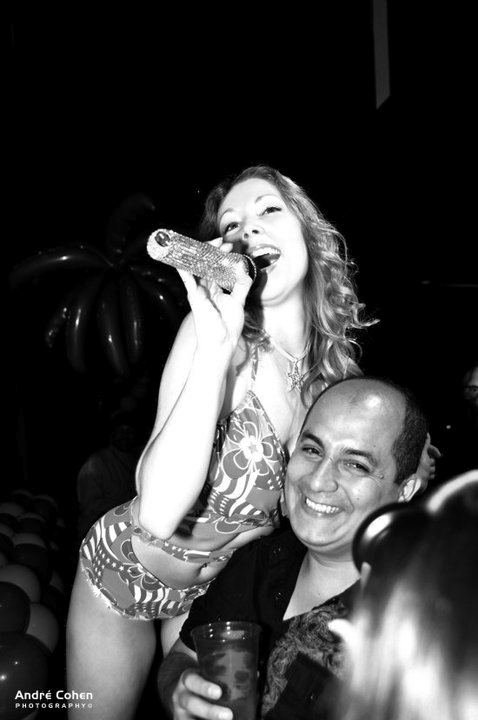 Jennifer Day and Steven Escobar.
While Actress/singer Jennifer Day delivered a showcase reminiscent of Rita Hayworth's performance of "Put the Blame of Mame" in the film "Gilda." The gentle blond wavy-haired beauty sizzled on stage at the CAP (Complete Actors Place) Theatre as she presented an "Indoor Beach Party- themed" live concert of original songs.
Wearing a shimmery green bikini with a matching floor length sheer top adorned at the neck and arms with white boa feathers, Jennifer connected with her audience in a touchy-freely-feely sensuous manner.
Jennifer's voice quality can be described as lyrical, sweet and seductive. My favorites from her new album were " Don't Want to Lose Your Love" and "All He Wants is Sex." Ms. Day's sidekick dancer, Belizean beauty Rushaun dancing next to her personal strip pole kept the sexy on stage while Jennifer Day made the rounds working the audience.
A very creative stage designer simulated a beach atmosphere out of balloons. Blue and turquoise balloons on the stage floor represented the ocean and balloons shaped like palm tree leafs recreated the palm trees. A brilliant sun was displayed by use of yellow and orange balloons.
Also on the bill was petite but fierce Philippine beauty Ysobelle who treated the audience to many Spanish tunes and standards including the spiritual "Summertime." With her hair wrapped high on top of her head she reminded me of an Asian Carmen Miranda. Ysobelle is a seasoned performer.
A lively red carpet lit up the CAP theatre. Pre and post show reception provided complimentary wine and cookie and brownie munchies.
The CAP theatre was a delightful find. It boasts an eclectic Euro-Asian decor with many half nude paintings adorning the high ceiling. In the rear of the theatre there is a cozy patio with comfortable seating perfect for a summer night's post-show soiree. Even the ladies lounge was interesting featuring a large aquarium. A warm and friendly bar host by the name of Zana dressed in an Afro-centric outfit, kept patrons very happy.
Celebrities and distinguished guest in attendances included: Fitness Trainer/international actor Xango, model/actress Kathleen Bradley (former Barker's beauty), BET Comic view comic Annie McKnight, Esteban Escobar (Diversity News publisher), Marketing Exec. Jacci Charleston, Buddy Sampson (publisher of The Scoop LA), celebrity columnist Eugenia Wright, David "Star Maker" Harrison Levi and others.
Related link: www.completeactorsplace.com
Red Carpet photos appear here:
http://jeffknightphotography.com/Events/6-22-10-Jennifer-Day-Show/12666318_EpdJm#P-1-5
Jennifer Day in the IMDB
http://www.imdb.com/name/nm2414230/
Also visit her site at: www.JenniferDay.tv
Eugenia Wright is a former actress turned syndicated columnist/publicist. You may write to her at kleopatragirl117@hotmail.com
Trackbacks
Leave a Trackback