Ali-Ollie Woodson former Temptations Lead Singer dies at 58
Kim's Kronicles
— By
Kim Webster
on May 23, 2010 at 8:42 pm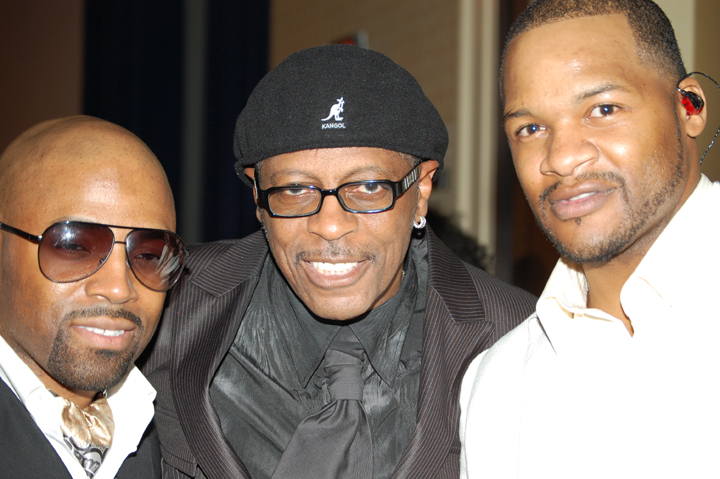 Teddy Riley(L) and Jaheim(R) with Ali-Ollie Woodson. Photo by Kim Webster
A friend called me on Memorial Day and told me that Ali-Ollie Woodson had passed away.  I paused and my heart dropped.  I remember first meeting him when the Temptations got their star on the Hollywood Walk of Fame and he kissed me on the cheek!
Singer, songwriter, producer, musician, actor Ali-Ollie Woodson was born Ollie Creggett on September 12, 1951 in Detroit Michigan.  His musical journey began in the early 70's at age 19.   Drifter's member Bill Pinkney hired Woodson as a musician and vocalist.  Woodson referred to him as his "Father in the music business."  After replacing former Temptations lead singer Dennis Edwards in the early 80's, Woodson sang lead on the 1984 hit "Treat Her Like a Lady" which he wrote and co-produced.  During the 80's and early 90's Woodson helped to propel the Temptations back to glory.  The last album he performed on was the 1995 "For Lover's Only."  He rejoined the group for a 2002 tour in Japan when lead singer Barrington "Bo" Henderson was unable to travel.
Woodson recently performed in J. D. Lawrence's play  "The Clean Up Woman" at the Terrace Theater in Long Beach CA.  During his solo career he formed a review called Ali-Ollie Woodson & the Emperors of Soul, and toured with many artists including Aretha Franklin.  Several years ago he was diagnosed with throat cancer and in 2008 diagnosed with leukemia.  On May 30, 2010 he made his transition.
Motown Alumni Assoc President Billy Wilson referred to Woodson as "always a gentleman and always polite and kind to everybody."  He will truly be missed, fortunately he left us with a wonderful CD titled "Never Give Up."  There's a soulful ballad, "Misty Morning" a stepping groove "Dance With Me" and a remake of  David Ruffin's "Walk Away From Love" and the OJAY's  "Family Reunion."  The last track is the gospel flavored "Joy" which is appropriate for the joy that Ali-Ollie Woodson gave to us.
Trackbacks
Leave a Trackback